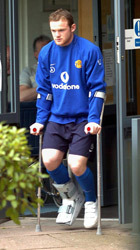 Manchester United boss Sir Alex Ferguson has again stated that England should not take Wayne Rooney to the World Cup unless he is 100% fit.
The 20-year-old United striker was included in England's 23-man squad, despite having broken a bone in a foot.
Ferguson told MUTV: "You cannot take anyone half-fit to a World Cup, I think that happened with David Beckham.
"We have assisted Wayne. He didn't enjoy the oxygen chamber but tried it."
Ferguson admitted that he is concerned about Rooney being fit for the start of next season.
"A lot of people might think I am selfish but Wayne is the most important player in the team at Manchester United," he added.
"We have to ensure the boy is going to be fit at the start of the season for us, so we all become selfish in that respect.
"England are selfish and Manchester United are selfish because they want the best for their operation."
Ferguson also doubted whether Rooney spending time in an oxygen chamber in an attempt to speed up the recovery process, would actually make any difference.
"They have not got conclusive evidence the oxygen chamber actually works but there is nothing against it," he added.
"Everything is worth trying and that is what we are doing with Wayne.
"He is in good hands. He has got the boot off and he is walking normally now, which is good news.
"So you never know but I certainly think it is very important for the boy not to go half-fit, or even three-quarters fit, and not do himself or England justice."