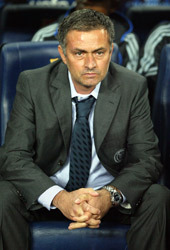 Manchester United manager Sir Alex Ferguson has welcomed Chelsea counterpart Jose Mourinho's declaration that he will stay out of trouble next season.
Mourinho, who has rarely been out of the headlines since arriving in England three years ago, has vowed to adopt a more mellow approach during the forthcoming campaign.
Ferguson said: "It's probably a good thing, because he was getting himself into all sorts of difficulties.
"He's obviously not relished the bad publicity. He has obviously learned his lesson a little bit. Everybody does."
The former Porto boss has initiated several high profile spats with a number Premiership managers in the last three years, most notably with Ferguson himself, as well as with Arsenal boss Arsene Wenger and Liverpool coach Rafa Benitez.
Ferguson believes Mourinho has realised he needs to change because his peers have become wise to his tactics.
"I think he's realised that everything he tries is just for a reason and to suit himself," added Ferguson.
"Maybe he has realised that everyone has cottoned on to that, and that it doesn't have the same impact. They're not stupid.
"I do like Jose. He came over and brought a bit of colour.
"He did really well on the publicity side in his first year because he was brash, young and making all his comments – and he endeared himself to a lot of people."
Mourinho created a siege mentality at Stamford Bridge last season as his injury-hit Chelsea squad battled on several fronts.
However, he says he has now pledged to improve the public's perception of him.
"I want to be more mellow this year," said Mourinho. "I am what I am but, at the same time, people use my personality to create something that is not true.
"It is normal if I am emotional or if I react to something that is not fair. But people have an image of me that's incorrect and now I want it to be different."