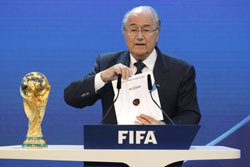 Can Tottenham defeat Twente and top Group A on Tuesday night? See the best betting here
FIFA's general secretary Jerome Valcke has defended the process for choosing Russia and Qatar to host the 2018 and 2022 World Cups, but has not ruled out the possibility of changing it for 2026.
Valcke said FIFA has until 2018 to decide if it "should or (should) not change" the way host countries are decided. But he said last week's vote for the World Cup hosts was "perfectly organized, perfectly transparent and perfectly under control."
Russia defeated bids from England, Belgium-Netherlands and Spain-Portugal for 2018. Qatar won the 2022 vote ahead of Australia, Japan, United States, and South Korea. The vote was greeted with shock in England and the United States and sparked allegations that the process was rife with corruption.
"If we say yes, yes it does not work, we would recognize something went wrong," said Valcke, who was in Abu Dhabi ahead of Wednesday's opening match of the Club World Cup.
"I'm sorry to say we have organized a voting system which was very transparent," he said.
"If the question is it's not transparent because you don't know who voted for whom, you will never know for whom I voted for between Nicolas Sarkozy and (French Socialist politician) Segolene Royal three years ago when the election took place. I will not tell because that is my freedom to decide for whom I voted without having to say publicly my choice."
Chuck Blazer, a FIFA executive committee member from the United States, insisted "the process had not failed at all" and that the secret ballot limited external pressure on the 22 FIFA executive committee members who voted Thursday.
"Here where we have closed ballot, we are criticized for not opening the ballot and causing greater transparency," he told reporters.
"Personally, I feel there is a need for a closed ballot at FIFA at this level because of fact there are many governments and other individuals interested in potentially influencing the votes of members who may be in their own constituency," he said. "The one way to protect them is allowing them to vote without it being public. People who yell transparency, well there are problems sometimes in that transparency if it has a negative effect on those people who need to exercise judgment."
Blazer also criticized the unsubstantiated claims alleging wrongdoing among the voters, including some which suggested he had promised to vote for England but then reneged. He called suggestions that he changed his vote "completely ludicrous."
"I've been very clear to anyone who was involved in the bidding and had impression on how I was leaning. I never made a promise to anyone how I was going to vote. I certainly never disappointed anyone," he said. "I voted for Russia and the United States and I did so for what I believed were good and sufficient reasons."
Regarding the allegations of corruption that had overshadowed the build-up to last week's vote, Blazer said the he had no concerns about the legitimacy of the outcome.
"I don't want any of that to take away from victory of Russia and Qatar in having been successful in the vote," he said. "I was satisfied when I left the voting room that the vote had been held democratically, that people had voted their own conscious and this was the result."
Can Tottenham defeat Twente and top Group A on Tuesday night? See the best betting here
A subscription makes the Christmas perfect gift. Give a lasting gift this year and save up to 33% when you subscribe.