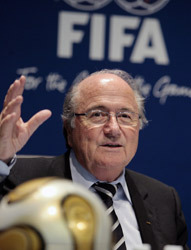 Chris Coleman is among the favourites to be named next Wales manager – see the best odds on every candidate
FIFA may abolish extra time at the World Cup with drawn matches going straight to penalties, the federation's president Sepp Blatter has revealed.
Blatter said in an interview with FIFA's web site that too many teams had played defensively at the World Cup in South Africa and football's governing body would look at ways of encouraging more attacking play.
"We plan to take the opportunity to look at the concept of extra time," said Blatter.
"Often we see teams set themselves up even more defensively in extra time, in an attempt to avoid conceding a goal at all costs.
"To prevent this, we could go directly to a penalty shootout at full time, or reintroduce the golden goal rule. We'll see what emerges from the committee meetings."
FIFA has so far declined to consider alternatives to penalty shootouts, such as using the corner count to decide drawn matches and reducing the number of players on the field in extra time to create a more open game.
The golden goal rule, in which the first goal to be scored in extra time won the match, was used at the 1996 and 2000 European championships and the 1998 and 2002 World Cups.
At Euro 2004, the silver goal was used in which, if a team was leading at end of the first period of extra time, they would win the game. Otherwise the match would continue until the end of the second period.
Blatter said he was not impressed with the opening games in South Africa where the first 16 matches produced only 25 goals and included six draws, two of them goalless.
"In the first few matches of the group stage in South Africa, we witnessed some teams that went out to avoid defeat, that were playing for a draw from the outset," he said.
"This is a topic that I would like to discuss at upcoming football and technical committee meetings. We have to try to find a way to encourage free-flowing football in tournaments like the World Cup, with teams playing to win."
Chris Coleman is among the favourites to be named next Wales manager – see the best odds on every candidate
Make sure you don't miss any of the last news and articles from World Soccer. Subscribe to World Soccer today and take advantage of our all 50th anniversary offer, saving up to 50%!