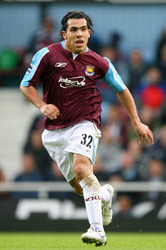 Fifa has admitted that it may not have the authority to resolve the Carlos Tevez dispute.
Manchester United and West Ham have asked world football's governing body to settle a dispute over who owns the 23-year-old Argentine striker.
Ahead of the meeting with the Football Association's legal team, Fifa's Andreas Herren told BBC Sport: "We will find out if we can rule on the matter.
"Monday's meeting is more of a fact-finding mission – nothing will be decided."
The Tevez dispute revolves around his ownership, with West Ham and his agent, Kia Joorabchian, claiming the economic rights to the player.
Joorabchian claims he entitled to any transfer fee, but West Ham tore up an agreement they had with Joorabchian – which contravened Premier League rules – and they now claim any deal with United can only go ahead if they agree.
The Premier League is also insisting that any fee must go to West Ham.
However, Herren said that Fifa, unlike the Premier League, allows for third party owndership.
"I know third-party ownership is not favoured in England, but national legislation varies from one country to another and we do not specifically look after the interests of one country's football organisation," Herren told the BBC.
"According to our lawyers, Fifa does not carry such an explicit prohibition of third-party ownership as in England."
If Fifa opts to take on the case then the organisation's Dispute Resolution Chamber (DRC) will come into play.
"The DRC will only be employed once the Fifa administration has analysed the case and the documentation has been submitted by all parties," said Herren.
"It is made up of the player's and the club's representatives in order to ensure all parties are represented."