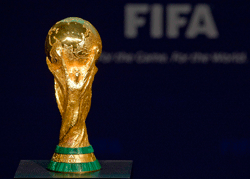 Save up to 33% on a subscription to World Soccer
Jerome Valcke, FIFA's secretary general, has questioned why former FA and England 2018 bid chairman Lord Triesman has waited so long before revealing allegations of World Cup bid corruption.
Triesman told a Parliamentary committee there had been "improper and unethical" behaviour by four FIFA executive committee (ExCo) members including asking for money and a knighthood when he was lobbying for England.
Valcke said however: "It could have been said before. If it was known, why did it not come to our attention? Why were we not informed?"
Two more FIFA members, Issa Hayatou from Cameroon and Jacques Anouma from the Ivory Coast,are alleged to have been paid $1.5million to support Qatar's bid to host the 2022 World Cup, according to claims made to MPs at the culture, media and sport committee in the House of Commons.
With two other FIFA members, Amos Adamu from Nigeria and Reynald Temarii from Tahiti, banned by the body's ethics committee last year, it means no fewer than eight Fifa ExCo members – one third of the total of 24 – have either been accused of asking for bribes or already found guilty of impropriety in relation to the 2018 and 2022 World Cup bids.
Adamu was also named in evidence provided by the Sunday Times to the committee as having been bribed by Qatar but his suspension prevented him from voting.
Valcke denied claims by MPs that FIFA had failed to reply to an official letter about the Qatar claims.
"There was a letter and we did definitely reply," said Valcke. "But there has not been a single time, apart from what we got from a UK newspaper, where we got any evidence anything was wrong during the process.
"I'm not saying anyone is lying but if we had clear information that there was some kind of evidence we would have immediately asked for it."
Triesman gave evidence of "improper and unethical" behaviour by four other executive committee members.
He said FIFA vice-president Jack Warner asked for money – suggested to be £2.5million – to build an education centre in Trinidad with the cash to be channelled through him, and later £500,000 to buy Haiti World Cup TV rights for the earthquake-hit nation, also to go through Warner.
Paraguay's FIFA member Nicolas Leoz asked for a knighthood while Brazil's FIFA member Ricardo Terra Teixeira asked Triesman to "come and tell me what you have got for me".
Thailand's FIFA member Worawi Makudi wanted to be given the TV rights to a friendly between England and the Thai national team, said Triesman.
Triesman added: "These were some of the things that were put to me personally, sometimes in the presence of others, which in my view did not represent proper and ethical behaviour on the part of members of the executive committee."
John Whittingdale, chairman of the committee, said he would now be writing to FIFA president Sepp Blatter to launch an investigation into the evidence "as a matter of urgency".
And the FA's chief operating officer Alex Horne has pledged to bring any evidence of corruption to FIFA as quickly as possible.
"We will make sure the evidence gets to the FIFA ethics committee," Horne said.
"So many people put so much time into the vote but we've tried to move on. I'm not sure what the protocol is but we will recommend the select committee passes any evidence over to FIFA."