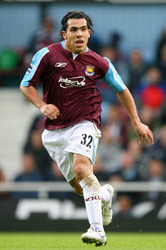 FIFA has chosen not to get involved in the dispute between West Ham United and Manchester United over the transfer of striker Carlos Tevez.
A spokesman said that FIFA had instead recommended that West Ham and Tevez go to the Swiss-based Court of Arbitration for Sport (CAS) to determine who owns the Argentine player's transfer rights.
"FIFA has recommended that the (English) Football Association and Premier League advise West Ham and Tevez to seek arbitration," the spokesman said.
"Under the present circumstances this was deemed to be the best approach and in the interest of all parties.
"What is more, we also believe this to be the fastest way to solve this impasse."
The Argentine striker wants to join Manchester United, but West Ham and businessman Kia Joorabchian both claim to own the player.
The Premier League, which insists that any fee must go to West Ham, met with Fifa and the Football Association on Monday to discuss the issue.
Fifa spokesman Andreas Herren said: "Under the circumstances it was felt it would be in the best interest of all parties to take this course.
"It looks like being the fastest way of resolving this matter.
"It is not a refusal by Fifa to get involved, quite the contrary. It is a recommendation by Fifa to opt for this way."
West Ham, who were fined £5.5m for breaking Premier League rules over the signing of Tevez last August, said they were happy with FIFA's decision.
"We're happy for the matter to go to CAS if it is with the agreement of all parties," a West Ham statement said.
The Premier League, who have insisted that any deal for Tevez should be between the clubs, were happy with the decision to let CAS arbitrate.
"The Premier League and FA are grateful to FIFA for considering this issue. We are supportive of the recommendation, that if all parties are in agreement the matter can be referred to CAS," said a Premier League spokesman.