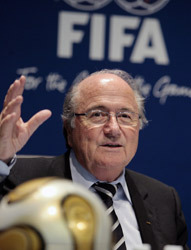 The early Saturday action pits Wigan against Wolves, with both sides in desperate need of a win – see all the betting here.
FIFA has unveiled its new online system to monitor international transfers in a bid to stamp out money laundering and corruption.
The Transfer Matching System (TMS) is an online system that must be used for all international football transfers.
"This is a historic moment for football," said FIFA president Sepp Blatter on the official FIFA website. "TMS is a relatively simple online system but it will have a tremendous impact on the international transfer of players. Thanks to TMS, football's authorities have more details available on each and every transfer
"The most important thing is that it increases the transparency of individual transactions and helps us to tackle issues such as the fight against money laundering and the protection of minors in transfers."
TMS general manager Mark Goddard added: "It's no longer a good idea to play a game of chicken in the negotiations for transfers.
"Over the last two-and-half years we have seen examples of big clubs like Real Madrid who last year came out very early in the transfer market and did their business in the first two weeks of the window.
"They avoided leaving it until the last minute as they didn't want to risk playing a game of chicken with a computer system which would say time has run out."
The two clubs involved in a transfer have to enter the same information in TMS, otherwise the transfer will be blocked and the member association cannot issue the International Transfer Certificate.
Overall, more than 30 details on each transfer have to be entered, such as information on the player, club details, all payments including the amount, timing and bank details, and solidarity payments to previous clubs.
The new monitoring system becomes a requirement for 3,500 professional clubs in nearly 150 countries on Friday.
Officials declined to say how many investigators they are assigning to look into transfers, but insisted that stiff sanctions await clubs that break the rules – from warnings and fines to a deduction of points and even transfer bans.
"In an online system, you cannot cheat," FIFA legal chief Marco Villiger said.
With a login password, FIFA staff and national football officials can inspect deals and search for instances of foul play. FIFA officials have previously described money laundering as a "massive problem" involving transfers of imaginary players for cash, but identities must now be established for transactions to be licensed.
Third-party "owners" of players will see their power curtailed. And proponents say the new registry should make transfers quicker, smoother and more transparent.
Goddard said the new system has effectively ended the market for minors moving around South America – in line with FIFA's efforts to limit the international movement of underage players.
"The clubs essentially said 'This is too hard, there are too many requirements,"' he said.
The early Saturday action pits Wigan against Wolves, with both sides in desperate need of a win – see all the betting here.
Make sure you don't miss any of the last news and articles from World Soccer. Subscribe to World Soccer today and take advantage of our all 50th anniversary offer, saving up to 50%!