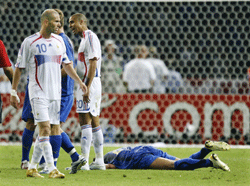 France coach Raymond Domenech said that Zinedine Zidane was provoked into headbutting Marco Materazzi during Sunday's World Cup final.
Zidane was sent off in extra-time for the headbutt before France went on to lose on penalties.
"Materrazzi is the man of the match, not Andrea Pirlo," said Domenech.
"When one has to put up with what Zidane had to and the referee doesn't do anything, one understands. You can't excuse it, but you can understand it."
"To see him finish his career in this way is sad," said Domenech. "He has had a great career and a great World Cup.
"Something must have happened but I don't know what. I don't think he decided out of the blue to headbutt him, that he wanted to leave the pitch, something must have happened.
"The referee saw nothing, the assistant referee saw nothing and then we have the fourth official seeing the video replay and telling the referee."
French defender William Gallas concurred with Domenech.
"I didn't see it but sometimes football is not only with the ball.
"Sometimes when you have a player who is very clever and says something to you then maybe you are angry and want to 'kill' that player," said Gallas.
"Maybe, and I say maybe, he has made a mistake.
"I don't know what he (Materazzi) said. You'll have to ask him but he's gone. I know why he's gone because maybe he's done something wrong.
"Zidane didn't say anything," added Gallas. "He was very disappointed for everybody – for the team and himself.
"I'm very sad for him. It was his last World Cup and everybody wanted to win for him.
"We deserved to win but that is life. I think we played very well and better than Italy but sometimes football is very strange.
"Everybody is disappointed. I hope we will maybe win next time."