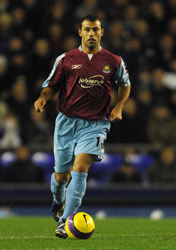 There is plenty of midweek Premiership action. Click here to find thousands of Best Price football betting odds!
The Premier League is considering whether to allow West Ham's Javier Mascherano to join Liverpool.
Mascherano's move was registered before the transfer window closed, but a Premier League statement said it wants to "take time to satisfy itself with the proposed arrangements".
Fifa has granted dispensation for the Argentine, 22, to join Liverpool even though he has already played for two clubs since 1 July last year.
Mascherano will not be able to play for Liverpool while his transfer is under consideration.
"The Premier League can confirm that, in accordance with its rules, Javier Mascherano's registration documents were received from Liverpool FC prior to the transfer window closing," said the Premier League statement.
"The board will consider the terms of the registration as quickly as possible and notify the parties involved of its decision accordingly."
Under Fifa's rules, a player cannot play competitively for more than two different clubs between 1 July and 30 June the following year.
Mascherano has already represented Corinthians and West Ham in that time, but FIFA explained its ruling did not apply in this case because the South American and European seasons overlap.
Fifa said: "The Fifa single judge ruled that Javier Mascherano is eligible to play in official matches with Liverpool with immediate effect."
Mascherano is hoping he can get through the red tape to seal his switch to Anfield and kickstart his career.
"I received the communication from Fifa and the documentation has already been sent to my agent," Mascherano told Radio La Red.
"The club has done a lot for making this easier, they did a great presentation and that's why now I am allowed to play for Liverpool.
"It's very common that when a player doesn't play he makes excuses, but I don't want that.
"I am a principled person in having the fault for what happened because it was me who took the decision.
"It wasn't the best decision to accept to be transferred to West Ham, besides that what I am saying hurts, but I must accept that.
"I went through a very bad moment, but now Liverpool has appeared and I want to do my work as best as possible for showing that I still have the same ambitions as when I arrived in England."
Mascherano also highlighted the role played by Liverpool boss Rafa Benitez in his move to Anfield.
"Rafa Benitez gave me a lot of confidence since the fist moment that I spoke with him," added Benitez.
"Personally, I even got very surprised with the chance of being transferred to Liverpool, considering that I haven't been playing since December 3rd at West Ham.
"Now a new page starts in my career and I want to be again the player that I was some time ago and fight for a place at Liverpool.
"I want to give my best to this team that has done such a big effort to have me in the squad.
"In addition to that, I want to work very hard for Liverpool and for myself win a place again in the Argentinian national team."
There is plenty of midweek Premiership action. Click here to find thousands of Best Price football betting odds!