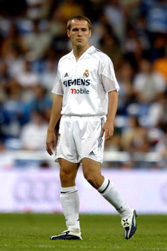 Michael Owen has admitted that he may be forced to consider his future at Real Madrid unless his situation at the Bernabeu improves.
The England striker moved to Spain in an £8m deal in August, but has started just one match for the Spaniards.
"I don't have a crystal ball so I don't know at what point I should start being worried, but I would be worried if this continued right the way through the season," he said. "If that happened then obviously I'd have to ask questions about myself.
"At Liverpool I was first choice every week. What Raúl is to the Real Madrid supporters I was in a way to the Liverpool supporters. I was an important player. The big difference is that I'm not playing as much in Madrid."
Owen has fallen to as low as fifth in the pecking order behind Raul, Ronaldo, Fernando Morientes and even Guti.
"It can be difficult to not play and then be called upon for one game or 10 minutes or so," he said.
"Much as you do probably train harder when you are not playing there's nothing like match fitness or playing games," he said.
Following the departure of the coach Jose Antonio Camacho, new manager Mariano Garcia Remón has preferred Morientes and even converted midfielder Guti as an alternative to his first choice pairing Ronaldo and Raul.
"It's only the start of the season and I never expected to walk straight into the side so I was happy with the way things went for the first five or six games," Owen added.
"But I haven't played much in the last two or three. I don't want to carry on not playing.
"I've played a couple of games, played a few matches for England and done a hard pre-season so I'm fit at the moment. But if it continued then it might be a bit more difficult and I might have more problems. I hope we don't have to cross that bridge."
"If I play well, better than other people, then I'm sure I'll get a chance if I wait my turn. It is tough but I have been through tougher times than this."
"[The situation] isn't because I'm playing badly, so I'm holding my head up high. I firmly believe that it's only a matter of time before I get a chance and then it's in my own hands: I'm not looking for favours from anyone.
"I'm the kind of person who goes to sleep thinking about these things and every time I've played I've been reasonably happy with my performances – I've never had a really bad game.
"Unfortunately, I haven't had many chances lately, but that's football. I'm sure I'll get them and if I play well I've staked a bit of a case again. I'm not playing as much as I would like but there's still a long way to go."