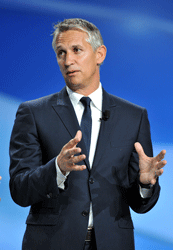 Interview with former England striker, Gary Lineker, about England's 2018 World Cup bid. He will be in Zurich as a member of the lobbying team.
Keir Radnedge: How do you see the bid team's role in Zurich?
Gary Lineker: All we can do is keep knocking on doors to show them how unquestionably strong our bid is right until the last minute, try to convince people if they need convincing and those who are perhaps wavering that ours if the place to be. Certainly, the best thing for the football itself would be our bid.
If you ask the big players where they wanted to play a World Cup in 2018 they would say they want to play it in this country. A lot of World Cups have suffered because of the conditions but we would have perfect conditions.
If you had to focus on one issue, what would it be?
The football itself. The best thing for football, I think, would be our bid. If you ask the big players where they wanted to play a World Cup in 2018 they would say they want to play it in this country. A lot of World Cups have suffered because of the conditions but we would have perfect conditions.
OK, our weather may not be brilliant for going to the beach but it's great for football and that's important to the players. It's what they want. If they're comfortable and they feel fresh and the conditions aren't overbearing it's a lot easier to play positive attacking football.
We don't have to deal with heat or altitude or other issues. You have the perfect playing conditions, perfect pitches and grounds with fans right on top of the pitches which creates the atmosphere in which the great players love to play.
Why do you think so many of the top foreign players come to this country? It's not just the financial thing but because it's such a buzz playing here.
Aside from the other things – the great legacy plan and how it will be financially very lucrative for FIFA so they can go and do what they do really well: spending money on grassroots football around the world – for football this would be the place to have the best World Cup and offer a great show. That's something we've not seen in recent World Cups. We could do with a really good one.
I think FIFA needs a good World Cup in football terms and it's easier to produce great football here in England. The easiest place to produce that is where you have the best conditions for the players and it's not easy to find in the summer in a lot of countries. It's an advantage that we have.
Does FIFA consider the players and fans?
I think so. You've got have World Cups that go around the world to promote the game in different places but you've also got to consider those countries with great traditions for football so it's about finding a mixture – which they seem to do. We've seen it in Germany and then South Africa, so there was a contrast there.
Aside from that, coming to England would be great for the game of football and give it the best possible opportunity of being a great World Cup. It's also very safe here, which is important. You know the stadia are already there: we could host it with a few weeks' notice if we had to, so there's no gamble and also we have the best combination of stadia in Europe.
In many ways, I think out bid is unsurpassable. It's a safe pair of hands.
Do the executive committee members put football first?
When they sit down and make these decisions I'm sure they look at all these aspects and, hopefully, will decide what's best for football because that's what they're there to do.
From an international perspective they'll see – hopefully – that England is an incredibly multicultural and cosmopolitan country. Whichever team qualified would have a natural home base of fans coming from this country let alone those who would travel which is pretty unique and I think that perhaps will appeal.
Will the BBC TV Panorama programme on Monday be an issue?
This should be about the bid and not about a television programme. Anyway I think the FIFA exco membrs will probably prefer to watch Barcelona against Real Madrid, the football, because that's what it's all about.
Every bidding nation will go into this concerned about something but what we've got to make sure is that we put forward the positives of our bid which are plenty. The negatives are things outside of football so they shouldn't really present a problem
Do you think the exco members are football people?
I've met some of them and I think they all have the best interests of the game at heart. I feel they are genuine lovers of football and in it for the right reasons. Some have been players.
I know some more than others: [UEFA president] Michel Platini I know; he's going to be a significant figure. I've played against him and with him once for the rest of the world and I played golf with him on a couple of occasions. He has a terrible temper. Michel smashing a tree with a three-iron was one of the funniest things I've ever seen.
What does the fact that the Prime Minister, David Cameron, is going to Zurich say about the strength of the bid effort?
It demonstrates how important this is and the fact that we have fairly unanimous support for the bid in this country from the very top with the royal family and the Prime Minister to to ageing old footballers (!).
Do you think there less anti-English feeling out there now?
I hope so. I think what happened with the last bid was a bit uncomfortable, the way it came about with Germany and their bid. This time it's been a lot clearer from that point of view and I think we're respected. We have great leagues in this country, great traditions, a great history of football and all that's respected.
The hooliganism has gone away. You can never take anything for granted but people abroad welcome our fans more now than in a bygone age. Not only has the hooliganism thing drifted way but we have unquestionably the least racist fans anywhere which is a great thing.
Will the fact that Spain has had the World Cup more recently be a factor?
It might be in the minds of some of the exco members, I cant say. In any case we are all about the strength of our own bid – and we're strong in all aspects. We're strong on the legacy front and since this is about world football and grassroots football across the world that would appeal to FIFA; also, financially, it would be probably the most viable World Cup.
How would winning – or losing – on Thursday compare with the highs and lows you experienced in the game as a player?
Any person who loves football and is patriotic will be desperately wanting the World Cup to come here. I have no memories of 1966, I was only five. I'd like to experience a World Cup in this country at some point in my life and if it doesn't happen this time it will be some way into the future so if we win the bid I'd be absolutely thrilled.
But I can't compare it with playing. It's not like a game of football. You don't know whether you're 2-1 up or 3-1 down or whether its half-time, you can't equate it like that. It will certainly be a very emotional moment if we get it.
What would winning mean to the development of English football?
It would create a real buzz of something to look forward to. It would also galvanise people to do things in terms of youth development in this country. We have got to try to change the culture of our football if were going to compete in the long term.