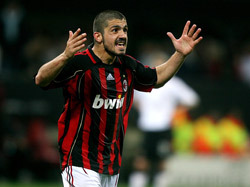 Help us with a Sport and Betting Survey! Click here to take part now.
Milan midfielder Gennaro Gattuso has begun the war of words ahead of the Champions League final by deriding Liverpool's "long ball" tactics.
Gattuso, 29, who played in the 2005 final defeat in Istanbul, suggested Liverpool were an inferior side to semi-final opponents Manchester United.
He said: "I feel there is a noticeable difference in talent between Manchester United and Liverpool.
"Liverpool do not have those individuals. What they have is a way of playing as a team.
"They are like an Italian team of 10 years ago.
"All they try to do is defend together, with everybody behind the ball and just one striker. Every ball is a long ball."
And Gattuso will be motivated by the memory of the 2005 final when Liverpool came from 3-0 behind to beat Milan on penalties.
He said: "This final will be different – that I promise. It is important to put the record straight."
Gattuso's comments will be noted by Liverpool skipper Steven Gerrard, who describes the former Rangers player in his autobiography as "overrated," stating: "I wasn't worried about Gattuso before the game, during the game or after. To me, he's all mouth. He looks aggressive, but in fact he's as scary as a kitten."
Gerrard claims Gattuso was the "one Milan player who had a smirk on his face leaving the pitch at half-time", but the Italian denied that. "I didn't do that at all," he said. "It was wrong to say that."
"For me, it's not about Gattuso against Gerrard, despite what he has said about me," he continued.
"In my opinion Gerrard is the best player in England. He is a technical player, who plays very hard and with his heart. He is a legend for his club and the best player they have got.
"I have respect for him because I remember that final in Istanbul. We had won it but then he played a great game and changed everything, and I watched him against Chelsea on Tuesday and he was amazing. He has criticised me but I am happy because it gets me going."
Help us with a Sport and Betting Survey! Click here to take part now.