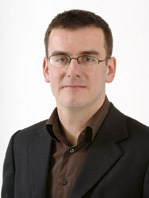 You have to hand it to Turkey. A goal down against Switzerland and seemingly heading out of the tournament after their first two games, they recovered to score twice and send the co-hosts out of the tournament. Four days later, they were two down with 15 minutes left against the Czech Republic; they scored three times to pull off a comeback that we thought could not bettered.
But now this. Has there ever been a later, greater turnaround than this in the history of the European Championship? Croatia thought they had won it with Ivan Klasnic's 120th header. We all thought they had won it. And it would have been nothing more than Croatia deserved. They had played all the best football, especially from the clever playmaking of Luka Modric, and created all the game's best chances. But the misses from Ivica Olic, Nico Kranjcar and Darijo Srna were to prove costly.
Turkey, by contrast, did not force a save from Croatia keeper Stipe Pletikosa until extra time when Tuncay ran to the byline and pulled a cross-shot back towards goal. Remarkably, their 122th minute goal, with the last kick of the game, was their first proper shot on target.
There was an inevitability about the penalty shoot-out as soon as Modric sent his kick wide of Rustu's post. Croatia's fans may have turned the Ersnt Happel stadium into a messy cauldron of smoke and noise during the match but the real drama unfolded in front of the Turkey fans at the other end. Was it any surprise that the Croatia players, their bodies drained after 122 minutes, made such a hash of the shoot-out.
Take nothing away from Turkey's astonishing achievement, but Croatia should be playing Germany in the semi-final.
No doubt about the theme tune of the tournament. Seven Nation Army by the White Stripes is the song that accompanies the teams as they walk out for every match and its infectious riff – 'Dah de de de de dah de' – is everywhere.
The song was a staple on English terraces last season and its popularity is spreading, helped by the ease with which fans can add their own lyrics, whether it's Crystal Palace ("We're-the-red-and-blue-ar-my") or Italy (Cam-pi-o-ni-del-Mon-do"). Apparently, there is an official song by Enrique Iglesias entitled, appropriately, "Can You Hear Me?" No we can't, Enrique.
It's Friday, so it must be Austria. Even with the benefits of traditional Swiss and Austrian organisation, there are aspects of Euro 2008 that are problematic. Co-hosted tournaments are always difficult and never run smoothly. My pockets are currently a confusing mixture of Euros and Swiss francs; that might sound like a minor inconvenience, but when you're travelling back and forth between the countries, it becomes a real drag. Different currencies, different dialling codes, different web browsers. The little things add up to one large problem.
I'm not really complaining; I'm lucky to be here. But you do wonder how much greater the problems will be in four years' time, if Poland and Ukraine co-host Euro 2012. I say 'if' because there is a whispering campaign that the tournament may be taken away from the eastern Europeans. The whispers are growing louder by the day. Not only are stadium preparations way behind schedule but the deteriorating political climate in Ukraine is a particular cause for concern.
UEFA is to send a delegation to the countries next month. With president Michel Platini attending as the delegation's high-profile head, it could mean curtains for Poland and Ukraine.
For UEFA, the question is probably not if, but how, to withdraw from an agreement with the Polish and Ukrainian federations. It will be a fascinating test of Platini's political skills to see if he can commit UEFA to such unprecedented action while saving political face at the same time. After all, Platini was elected with eastern European votes and the Euro 2012 decision was payback time for his supporters in the East.
The other burning question is who would take the place of Poland/Ukraine. France, keen to bid for Euro 2016, is one contender, as is Italy, who were beaten into second place by the Polish-Ukrainian bid. Spain are long overdue to host a major tournament after being beaten by Portugal for Euro 2004. But they may want to keep their powder dry for a 2018 World Cup bid.
UEFA general secretary David Taylor has again been floating the idea of an expanded 24-team European Championship for 2016. The idea will be considered by UEFA later this year but there are very few countries capable of hosting such a bloated, top-heavy tournament. Co-hosting, despite its obvious problems, is politically attractive to UEFA. It may become the norm.