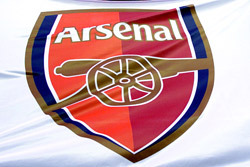 Ireland take on Brazil in a fascinating International friendly tonight – see all the betting here.
Arsenal chief executive Ivan Gazidis has praised the work of manager Arsene Wenger but said "his legacy is not written yet".
Gazidis was speaking after Arsenal revealed impressive financial results with half-yearly profits of £35.2 million.
Wenger's contract at the Emirates Stadium expires next summer but there is no concern about him renewing his contract.
Gazidis said: "It's very low key and it will get done at the right time."
"I think it is very difficult to encapsulate in any succinct way what Arsene Wenger has done for this club," Gazidis told the Daily Telegraph. "His discipline and his vision are why we are in a new stadium and why we are redefining the way the game can be played. He has created a young squad that has a tremendous future without having the resources that some other teams have.
"Those achievements are down to Arsene's sense of responsibility not to himself but to the club. When he interviewed for the job, Danny Fiszman [an Arsenal director] asked him what are your ambitions for the club? Arsene said: 'That when I leave, it will be in a better state than when I arrived'.
"I think Arsene has accomplished that but I also think his legacy is not written yet. There's no diminishment in his passion, competitive edge or ambition. Arsene's work is not finished.
"We have probably the best club stadium in the world and the youngest squad in the entire Premier League which is competing to win the league this year – that would be unprecedented for a team this age.
"We are not in competition with Real Madrid or Manchester City to spend £80 million on a player. That is not sustainable for any club and certainly not for us. There is no such thing as a free lunch and I think that people who think that there is are naïve or thinking in a very short-term way.
"I think all clubs are trying to get towards a self-sustainable model. We are in the fortunate position of already being there."
However, Gazidis is also aware that the club must win trophies.
"It is something we are very aware of," he added. "The ultimate aspiration is not to produce a wonderful business model, the reason we adhere to those principles is so that we can preserve the values of the club and create the foundation on which we can deliver success on the pitch."
Ireland take on Brazil in a fascinating International friendly tonight – see all the betting here.
Make sure you don't miss any of the last news and articles from World Soccer. Subscribe to World Soccer today and take advantage of our all 50th anniversary offer, saving up to 50%!