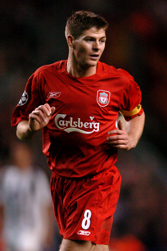 Steven Gerrard has admitted he wanted to leave Liverpool because he was concerned that the club did not want him.
The Liverpool captain performed a dramatic U-turn and decided to stay just hours after announcing he wanted to leave Anfield.
He told the Liverpool Echo: "The last five or six weeks were the hardest of my life because I wrongly believed the club didn't want me.
"This won't be happening again next summer or ever again.
"I admitted I've made mistakes and the club has acknowledged they've made some mistakes as well. But now we've sorted it out and I'm doing what I wanted to do all along, which is stay at Liverpool."
Gerrard could sign a new contract worth about £100,000-a-week within the next few hours.
He said: "I don't want to get into attaching blame to anyone. If I blame anyone, it's myself.
"I wanted my future sorted out as soon as possible after the Champions League final and when that wasn't the case, the longer it went on, the more misunderstandings there were.
"There was confusion and doubt in my mind. I had discussions with the manager, but the reports of bust-ups are complete nonsense. Now I know how much the club wants me.
"I'll be signing the deal, maybe even today (Wednesday). I'd also like it known there are no clauses in that contract.
"I've committed my long-term future to the club and I want all the speculation to end now. This is what I've wanted all along."
Gerrard now wants to concentrate on playing for Liverpool.
"I feel there is a weight off my mind and I just want us to put this mess behind us," he said.
"I've only one medal left to win at Liverpool and that's the Premiership. That's what I want more than anything and Liverpool is the only place I've ever wanted to win it.
"I know there are some fans who'll be supportive and some who won't be. All I can say is it's been a difficult period for me, but I know I've made the right decision.
"In my heart, this is my club. I want to help bring success here for them and, for their sake and my own, I never want to go through this again."