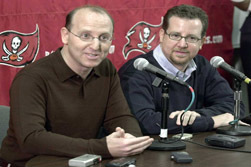 Manchester United's new owners have pledged to continue to spend big on new players to enable manager Sir Alex Ferguson to compete at the highest level.
Joel Glazer, son of billionnaire Malcolm, gave his first interview since arriving in England to MUTV, the club's television channel.
"We are there to provide the manager with what he needs to compete and win at the highest level," he said.
"Nobody was more excited when the club signed Wayne Rooney than us. If that situation arises again, we will go after that player."
Malcolm Glazer's takeover of United cost £790m and a large part of that sum was borrowed, leading to fears among supporters that the team would ultimately suffer.
Joel Glazer, along with brothers Avi and Bryan, spent a day at Old Trafford reassuring club officials of their plans. The visit came just hours after hundreds of United fans had staged a protest outside the ground against the takeover.
Joel Glazer is reported to have told Ferguson that he would have £100m to spend in the transfer market over the next four years.
"When I read about hands being tied it is very frustrating," Joel said.
"It is absolutely not true. We are there to provide the manager with what he needs to compete at the highest and win at the highest level. You can't have caps. Situations arise and things change.
"We would not get involved with this unless we could compete at the highest level not having our hands tied, so when you read about that, you get very upset and want to let people know it is not the case.
"It is not a bottomless pit but the way this club has been operating in the past is going to be the way it's going to operate in the future."
Glazer tried to reassure fans, concerned about the efffect of the takeover.
"This should not scare you. It is business as usual, business as it's always been. It is time to put all the distractions aside, compete on the pitch and win the trophies everyone wants.
"We are committed to work with everybody here and to keep the great traditions alive. Whenever you enter a time of change, people wonder what is going to happen.
"And our view is that this club has such a rich history and tradition, so we are not looking to change that or touch that.
"There's no question, along the way you learn your lessons. You make some mistakes, but you learn from your mistakes and I think we have learnt a great deal," he said.