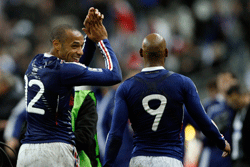 Manchester City haven't won at Anfield since 2003 but the big spenders may never have a better chance of beating under-fire Liverpool and Gavin Beech thinks the visitors are a big price.
Thierry Henry has admitted that Republic of Ireland "definitely deserve" to qualify for the World Cup finals and has supported calls for a replay, even though FIFA have already turned down a request for the game to be played again.
France captain Henry has been at the centre of controversy after he handled the ball in extra time before passing for William Gallas to score in Wednesday night's World Cup play-off between the two countries.
That goal ensured Les Bleus won 2-1 on aggregate to qualify for the finals in South Africa.
The Football Association of Ireland made a formal complaint to FIFA but the governing body announced that they would not consider a replay of the game, with referee Martin Hansson's decision remaining final.
Henry has stated he feels that would have been the fairest way to defuse the heated row.
"Naturally I feel embarrassed at the way that we won and feel extremely sorry for the Irish who definitely deserve to be in South Africa," said Henry. "Of course the fairest solution would be to replay the game but it is not in my control."
Henry's character has been called into question following the incident but the Barcelona striker is adamant that the handball was nothing more than an "instinctive reaction".
"There is little more I can do apart from admit that the ball had contact with my hand leading up to our equalising goal and I feel very sorry for the Irish," Henry said.
"I have said at the time and I will say again that yes I handled the ball. I am not a cheat and never have been. It was an instinctive reaction to a ball that was coming extremely fast in a crowded penalty area.
"As a footballer you do not have the luxury of the television to slow the pace of the ball down 100 times to be able to make a conscious decision. People are viewing a slow motion version of what happened and not what I or any other footballer faces in the game.
"If people look at it in full speed you will see that it was an instinctive reaction. It is impossible to be anything other than that. I have never denied that the ball was controlled with my hand. I told the Irish players, the referee and the media this after the game."
'Embarrassing to qualify this way'
Arsene Wenger, who signed Henry for Arsenal in 1999, has echoed the striker's calls for the game to be replayed.
Wenger – who agreed to a replay of an FA Cup tie against Sheffield United in 1999 – believes France have a responsibility to uphold the spirit of the game.
"I support France and it is embarrassing to qualify the way we qualified. We want to beat Ireland properly and that didn't happen," Wenger said. "At the end of the day you can talk and talk and talk, or you replay, or you don't replay.
"Thierry Henry was the big loser in this story. If he had come out [at the time] and said it was handball, half of France would have said, 'how crazy is he, not to get us to the World Cup?' If he doesn't say it straight away, he is also guilty. The problem is not Thierry Henry, it is above Thierry Henry.
"He played here for 10 years and has always been super fair. He has come out and said 'I made a mistake, I touched the ball with my hand'. That is honest. Let's make sure it doesn't happen again because we could see it every week.
"Football and sport in general is full of heroes who have cheated ten times more than Thierry. For me people who bought referees, who took drugs, they are the real cheats in sport. Thierry Henry has years of fair behaviour behind him and he today is singled out in the wrong way.
"A player of his stature has a massive pressure on his shoulders and if somebody has to do something for Thierry, it is French football and France as a country, not to leave him out there alone against the whole world. France has to say 'yes it was a handball and we offer a replay'."
Wenger said the incident vindicated those who have backed calls for the introduction of goalline technology.
"What is terrible for the referee is that he gave the goal knowing something was not regular, yet he had no help," said Wenger. "I saw him walk from the linesman to the middle of the park, thinking 'I have to give that goal', knowing it is not a regular goal. That is where football is guilty.
"They [FIFA] have come out with a solution with one guy behind the goal, but the best one is technology. The biggest anger for me is that we are still in 2009, sitting here where millions of people see what happened, one guy doesn't see it and we can't help him. Football is the most popular sport in the world and we are still having to endure these kinds of mistakes."
Manchester City haven't won at Anfield since 2003 but the big spenders may never have a better chance of beating under-fire Liverpool and Gavin Beech thinks the visitors are a big price.
Christmas special offer – Subscribe to World Soccer magazine today and Save up to 32%