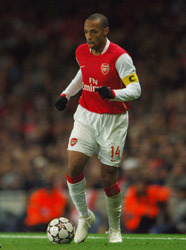 According to former Arsenal midfielder Patrick Vieira, Thierry Henry will leave if the club does not bring in several world-class players.
Henry, 29, the current Arsenal captain, has been linked with a move to a number of Europe's top clubs.
Vieira told BBC Radio Five Live: "If Arsenal bring two or three big names that will show Thierry that they want to compete.
"If that's not the case Thierry will ask himself what is the best for him."
Henry admitted he was "devastated" when Arsenal vice-chairman David Dein left the club in April and his comments alerted the likes of Barcelona and Milan.
Barcelona suggested they wanted to sign the striker earlier this month, while Carlo Ancelotti, coach of European champions Milan, admitted Henry was one of the "players that we are interested in".
"Thierry wants Arsenal to show that they want to stay at the top of English and European football," added Vieira, now with Inter.
Asked if manager Arsene Wenger will stay, Vieira replied: "I don't know. I think it will be difficult for him to stay, given what he has done with David Dein.
"David Dein has been really important in the development of Arsenal.
"I think in the last 10 years he and Arsene have worked really hard to put the club where they are now. To see him leave Arsenal, it was difficult to understand.
"Without David I don't think it will be the same for Arsene because they started it together. And it would be strange for him to stay – but you never know."