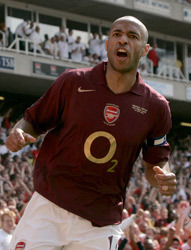 Arsenal captain Thierry Henry said the 4-2 win over Wigan, which gave the Gunners fourth spot in the Premiership, was the perfect send-off for Highbury.
"That was the perfect send-off," said Henry who completed a hat-trick in the win.
"We are fourth in the league and the table does not lie after 38 games, so we deserve to be in this position.
"We've missed so many players this season and we did it the hard way. When I kissed the ground after my third, I was saying goodbye to this stadium."
Arsenal's fourth place means they take they will have to qualify for a place in the group stages.
Henry added: "It's not normally what we do, finish fourth, but we will take that this season.
"However we still have to play qualifying games so we are not quite in the Champions League yet."
Manager Arsene Wenger said he did not know whether finishing fourth would affect Henry'd decision to stay or not.
"I believe we have something special happening here and I'll encourage Thierry to stay," said Wenger.
"He has given us no encouragement so far but we must respect that until he wants to make a decision.
"He knows how much we want him to stay and playing in the Champions League makes a big difference because players like that need to play at the top level."
"For the history of the club and for this building here, to finish on a high I am very proud," he added.
"We would all have felt guilty to have walked out of here on a low after what has happened here for years.
"There was fantastic excitement, strength of character and quality as well."
Gunners defender Ashley Cole said the players all wanted Henry to stay at the club.
"We will handcuff Thierry to keep him here," joked the left-back.
"He is a great player and a great friend to all of us but we have to wait for him to make a decision so we will just leave him."