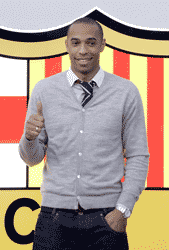 Thierry Henry believes the prospect of facing a Barcelona side contianing himself, Ronaldinho, Samuel Eto'o and Lionel Messi, will intimidate opponents visiting Camp Nou.
Henry signed for £16.1m from Arsenal on Monday to in a move that will supplement Barca's already dazzling array of attacking talent.
He told the club's website: "When you see the names of this squad, which now includes mine, it should strike fear into the opposition.
"The most important thing is that we are capable of playing as a team."
Henry admits he is not guaranteed an spot in the starting eleven.
"Before coming here I knew very well what to expect and how things would go," he added.
"It is normal that a club like Barca have these types of players. It will be a decision for the coach to make about which players are chosen.
"One of the most important things is that we work as a team to move forward so that the club can win trophies.
"Although is it true that people remember specific players, they remember the team's victories more.
"I think that the most important thing is that Barca wins, independently of who plays."
The Frenchman is also looking forward to discovering a new language and culture.
"For me it's a priority to learn Castilian (Spanish) or Catalan as quickly as possible because it's very important to communicate, not just in the dressing room but from day to day," he said.
"I want to get to know the culture, the Catalans, the city."