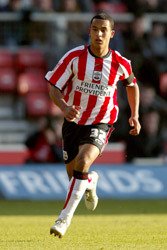 Arsenal striker Thierry Henry has admitted he is relishing the prospect of playing alongside Theo Walcott, the promising Southampton striker linked with a move to Highbury.
The Gunners are leading the chase for the £12m-rated Walcott, 16, but they face competition for his signature from fellow Premiership clubs Chelsea, Tottenham and Manchester United.
Henry said: "There are a lot of teams trying to get him but if he can join us then I would welcome him here and he would be a benefit.
"He's young, with a lot of desire and skills who obviously loves to play."
Southampton confirmed yesterday they are considering two bids for Walcott from Premiership clubs and were expecting further interest.
Walcott is keen on a move to Arsenal and would like to line up alongside his hero Henry.
Henry added: "People say there are similarities between us and it's good to hear what he said about me.
"I first saw him play in the Youth Cup and I saw him as a player with great pace and a lot of tricks. I've also seen him play this year."
Subscribe to World Soccer – The essential football magazine