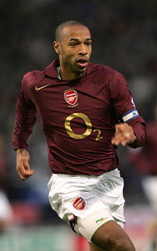 Arsenal striker Thierry Henry has confirmed that he will resolve his club future before the World Cup finals kick off in in June.
The French international has been linked with a move to Barcelona although Arsenal are keen to keep him.
"At the end of the season we are going to have to take a decision. It will be done before the World Cup, that's for sure," Henry said.
"People were talking about money, but I think people should know by now I am not someone who thinks about the money before the game," he added.
"That is why, when I talked about sporting ambitions, I was talking about the pitch and nothing else," Henry also told Arsenal TV Online.
Henry denied that the speculation over his future was affecting his performance.
"People wonder whether it does disturb me, but I said so many times when you look at my performances on the pitch for my club that should be an answer to all these kind of questions," he added.
"We are talking with the board and with Arsenal at the moment about the contract situation. But there are so many things at stake that we should talk about.
"My main concern right now is to finish in the top four – because it's vital for the club and anything that is going to happen at the club next, and to concentrate on winning the Champions League.
"That is where my focus is right now, because if you start to think of (contract talks) over what you should be thinking about on the pitch then it can disturb you. But it hasn't."
Arsenal are currently five points behind fourth-placed Tottenham Hotspur but do have a game in hand.
However, Henry admitted that the uncertainty about Arsenal's season has prevented him from coming to any firm decisions about his future.
"If we were maybe like Chelsea – 20 points ahead and in the semi-final of the FA Cup, and already out of the Champions League – maybe you can start to think about stuff," he added.
"We are not in that situation, and I cannot afford to keep my foot off the pedal and think about other stuff when my team needs me to be focused on what we're doing right now – trying to get in the top four and maybe, finally, getting our hands on that (Champions League) trophy."
Subscribe to World Soccer – The essential football magazine.