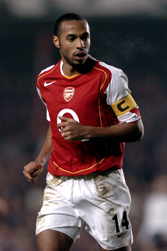 Thierry Henry has stated he would like to finish his career at Arsenal.
The French striker's contract runs out in 2007, by which time he will be 29, and he says he intends to stay on beyond that unless he is no longer wanted by the club.
"I would like to stay here, but it's up to the people involved. If it was only up to me, no problem, but we all know how it is in football.
"If you stop scoring goals, someone young can come along and kick you out," Henry told BBC Five Live's Sportsweek.
"No one would have thought that when Ian Wright stopped, someone else would come in and do something.
"Nicolas Anelka came for two or three years and when he stopped everyone said 'who are we going to have?' then suddenly I arrived.
"It's going to be the same with me and that's the way it is. I'm just realistic.
"When I stop, Arsenal will always be Arsenal, whether I'm in the team or not."
Henry admitted he wa`s disappointed at the club's poor season to date.
"I understand people expect more from us, but people forget where we are and what we did before," he added.
"Look at how much money we've spent in the last four or five years. Even teams like Birmingham and Tottenham spend more money than us and we're still around trying to deliver. We're still here trying to do some stuff.
"We're fighting against the two richest clubs in the world and now if Roman Abramovich comes out and wants to buy a player it looks like the player's going to go there.
"If I was a Chelsea supporter I would love it, if I was playing at Chelsea I would love it. It's good for the Premiership," he said.
"We're seeing some great players come in and some beautiful football – it's great.
"I don't know what the whole story is," he when asked about the reports claiming that Ashley Cole had been approached to join Chelsea, "but it goes without saying I hope Ashley can stay."