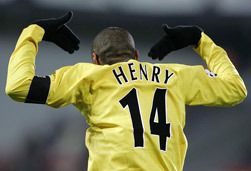 Thierry Henry believes Arsenal's poor start to the Premier League season is due to their failure to replace his France team-mate Patrick Vieira.
Henry thinks Arsenal are trailing Chelsea because they lack the stength in depth of Premier League champions Chelsea.
"The most important thing was to make people forget Patrick Vieira left and try to go on a good run and catch Chelsea. We've not done that," he said.
Arsenal's record goalscorer and has postponed talks on a new deal until the end of the season – prompting speculation that he may quit Highbury.
Arsene Wenger's side have suffered three defeats and are languishing in eighth place, 14 points behind runaway leaders Chelsea.
"In the past I've been asked why we could do it in the Premiership but not in Europe. Now they're asking the other way round," Henry said.
"Without looking for excuses, we've been missing and are still missing key players.
"Some clubs have international players sitting on the bench and in the stands, but we don't have that and it's frustrating."
Henry has been linked with a move to Barcelona and his latest comments are unlikely to allay fears that he is frustrated with life at Arsenal.
The striker has also become embroiled in a dispute between Wenger and the French Football Federation over a charity game intended to raise money for air-crash victims on the island of Martinique.
Wenger is annoyed that Henry will travel so far during the Premiership season.
But Henry said: "It would be an immense pleasure to play in Martinique. I can't see myself missing this match. I hope that Arsene will understand that it's very important for me."