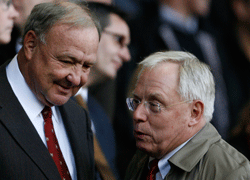 A huge Merseyside derby is in store as 17th place Everton host 18th place Liverpool – see all the betting at easyodds.com
Liverpool co-owners Tom Hicks and George Gillett have obtained a temporary restraining order to stop the £300million sale of the club and are seeking $1.6billion damages after describing the deal as an 'epic swindle'.
The American pair claim to have gained an injunction from a Texas court to prevent the completion of a binding agreement with John Henry's New England Sports Ventures (NESV).
News of the restraining order, signed by Judge Jim Jordan of the 160th District Court in Dallas, came at the end of a dramatic day in which Hicks and Gillett had earlier lost a High Court case in London against the Liverpool board and major creditors Royal Bank of Scotland (RBS).
The Texas court have set a hearing date of 25th October.
Hicks and Gillett are also seeking temporary and permanent injunctions, and damages totalling approximately $1.6billion in their lawsuit.
They also claim Hicks received a written approach from a bidder represented by FBR Capital Markets at the beginning of October, offering in the region of £400million for the club.
The suit lays out the defendants' "epic swindle" in which they conspired to devise and execute a scheme to sell Liverpool to NESV at a price they know to be below true market value.
It describes how the defendants excluded the owners from meetings, discussions and communications regarding the potential sale to NESV and interfered with efforts by the owners to obtain financing for Liverpool.
"The Director Defendants were acting merely as pawns of RBS, wholly abdicating the fiduciary responsibilities that they owed in the sale," read the complaint.
"RBS has been complicit in this scheme with the Director Defendants. For example, in letters from RBS to potential investors obtained just within the past few days, RBS has informed investors that it will approve of a deal only if there is "no economic return to equity" for Messrs. Hicks and Gillett.
"In furtherance of this grand conspiracy, on information and belief, RBS has improperly used its influence as the club's creditor and as a worldwide banking leader to prevent any transaction that would permit Messrs. Hicks and Gillett to recover any of their initial investment in the club, much less share in the substantial appreciation in the value of Liverpool FC that their investments have created.
"On or about 4th October Mr. Hicks received a letter of interest from a third potential purchaser represented by FBR Capital Markets (FBR), offering to purchase Liverpool FC for £375 to £400 million. The letter informed Mr. Hicks that the potential purchaser would not need financing, possessed the funds to close the transaction, and intended to build a new stadium for Liverpool FC.
"Additionally, the Plaintiffs learned just days ago about another potential investor that made a similar offer in the £350 to £400 million range that was communicated to Defendant Broughton and another unnamed co-conspirator in late August. According to this investor, Mr. Broughton never responded to the offer. Moreover, when the purported sale to NESV was announced, this investor again contacted Mr. Broughton and informed him that the offer, which significantly exceeded the NESV offer, was still on the table. Again, Mr. Broughton brushed this offer aside without further discussion."
A huge Merseyside derby is in store as 17th place Everton host 18th place Liverpool – see all the betting at easyodds.com
Make sure you don't miss any of the last news and articles from World Soccer. Subscribe to World Soccer today and take advantage of our all 50th anniversary offer, saving up to 50%!