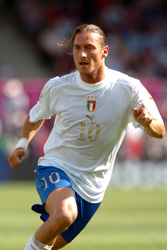 The head of the Italian League has backed the idea of banning players who refuse call-ups to the national side.
Milan defender Alessandro Nesta chose to get married instead of travel with Italy for Saturday's Euro 2008 qualifier in the Faroe Islands and has been told by coach Roberto Donadoni that he might not represent his country again.
Roma striker Francesco Totti has not played for Italy since their World Cup victory last July, saying he would rather concentrate on club football than play for the national side.
UEFA President Michel Platini has advocated suspensions for players who refuse call-ups and Italian league chief Antonio Matarrese concurs.
"I agree with Platini," he told Gazzetta dello Sport on Friday.
"He knows well the value of representing your own country. Those who do not want to play with the national side do not deserve it. As for sporting sanctions, there is a moral condemnation on those who refuse a call-up for the Azzurri."
However, Italian Soccer Federation President Giancarlo Abete believes it will be difficult to distinguish between those players who are genuinely injured and those who snub the international call-up.
"You need to distinguish between agreements with the coach to miss a game in the blue jersey, for example following an injury, from the refusal to be called up," he said.