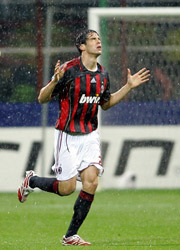 Liverpool v Chelsea – click here to read preview
Brazilian Kaka has hinted that he will seek a move to the Premier League if he leaves Milan.
The skilful playmaker was the subject of a bid from Manchester City in the winter transfer window, but a move failed to materialise.
Kaka, 26, has been playing in Serie A for six years, since signing for Milan from Sao Paulo in 2003, and admits he is tempted by the prospect of playing in England.
He said in the Daily Star: "I like the Premier League a lot, so maybe that would be my choice if I leave Milan.
"Whenever I can, I try to swap experiences with my friends playing in other countries and leagues.
"All the players that I've talked to that play in the Premier League, or used to play there, say it's a tough league – tough, very fast and competitive.
Liverpool v Chelsea – click here to read preview
href="http://www.magazinesubscriptionsipc.com/ipc/subs/subsorder.asp?title=XWS&promcode=iwsmc&ctryID=NONE"_blank">For more fascinating features, subscribe and save 30% and use the below link?