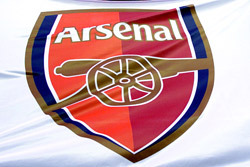 Manchester United defend their 22 game unbeaten home Champions League run against CSKA Moscow at Old Trafford – see all the best odds here (Tues 19:45)
Arsenal director Stan Kroenke has edged to the stage when he would be obliged to make an offer for the entire stockholding of the club.
The US billionaire has bought another 427 shares in Arsenal's holding company, at a cost of £3.6m ($5.86m), taking his shareholding to 29.6%.
He bought the shares at £8,500 each, which values the club at about £529m.
He is nearing the 29.99% threshold, at which he would be forced to make an offer for the remaining shares.
Mr Kroenke is the club's largest shareholder.
At Arsenal's annual general meeting at the Emirates Stadium on 22 October, he was asked what his intentions were for the North London club.
But he chose not to speak to the gathered shareholders, with chairman Peter Hill-Wood intervening.
As well as Mr Kroenke, the other major shareholders are Uzbeki tycoon Alisher Usmanov, who holds a 24% stake, Danny Fiszman, and Lady Bracewell-Smith.
According to the Arsenal Supporters' Trust roughly 13% of the club's shares are held by small shareholders.
Manchester United defend their 22 game unbeaten home Champions League run against CSKA Moscow at Old Trafford – see all the best odds here (Tues 19:45)
Christmas special offer – Subscribe to World Soccer magazine today and Save up to 32%