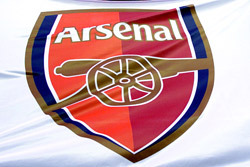 American businessman Stan Kroenke is set to launch an official takeover bid for Arsenal within days, according to a report by skysports.
Kroenke Sports Enterprise (KSE) currently has a 12 per cent holding in the Premiership club after initially purchasing a 9.9 per cent stake in April.
Kroenke has already held talks with Gunners chairman Peter Hill-Wood and managing director Keith Edelman and has asked to meet other board members, which has been seen as a sign of his intent to launch a formal takeover.
Paul Andrews, the executive vice-president and chief marketing officer of KSE, refused to comment on the speculation.
Earlier this week, h said: "We never comment on any future, possible investments of any kind. Each investment is evaluated based on its merit and it will be assessed on an ongoing basis."
Kroenke needs to reach 30 per cent before being obliged to launch a takeover, according to Stock Exchange rules.
The takeover is understood to value Arsenal at around £650million.
Kroenke already owns the NBA's Denver Nuggets, the NHL's Colorado Avalanche and MLS' Colorado Rapids, while he is part-owner of the NFL's St Louis Rams.