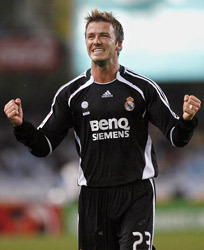 LA Galaxy's general manager Alexi Lalas has described the Premier League as an 'inferior product', and accused critics of Major League Soccer ahead of David Beckham's impending arrival in America, of ignorance.
Beckham will join LA Galaxy on 1st July to begin his career in a league that has often been ridiculed in the English press.
However, Lalas believes English football that the difference in quality is not as pronounced as critics of MLS have suggested.
"We may be Americans but we're not stupid," said Lalas in an interview with The Guardian.
"We know when we're being patronised and I get so irritated when I hear the experts in England talk about David Beckham as if he's going into semi-retirement by leaving Real Madrid for Los Angeles.
"That's ignorance of the first degree because almost every one of those critics has not even seen a single MLS game.
"It's insulting to us and to our sport to say Beckham is on his way to Hollywood when he's coming to play in one of the most competitive leagues in the world.
"There are a lot of stars in European football who would struggle over here. But Beckham has done his homework on this league, and his team-mates, and he recognises the merit of American soccer."
Lalas also attacked the standard of play in the Premier League.
"You know, there's no accounting for bad taste," Lalas added. "The fact that a segment of the world worships an inferior product in the Premiership is their business.
"In England our league is considered second-class but I honestly believe if you took a helicopter and grabbed a bunch of MLS players and took them to the perceived best league in the world they wouldn't miss a beat and the fans wouldn't notice any drop in quality.
"English football now has the haves and the have-nots, and even the top four in the Premiership may be narrowing down to two.
"But because of the structure of our league and the salary cap our competition runs deep. It's just that the Premiership have become so skilled in presentation."