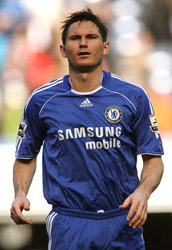 Compare football odds from over 25 bookmakers and claim £500+ in Free Bets. Click here for offer!
Frank Lampard has admitted he is frustrated that his new contract tallks have dragged on so long, but he insists he has no intention of leaving.
The England midfielder has been linked with a move away from Stamford Bridge in recent weeks, amid claims that he could buy out his Chelsea deal for as little as £8m.
But Lampard, 28, says he he would be happy to stay at Stamford Bridge for the remainder of his career.
"I want to stay at Chelsea," he told The Sun. "I have never wanted to leave the club and I don't intend to. I have everything I want in life where I am right now.
"For the past six years my life has been my family and Chelsea football club. Some players can say that and it sounds cliched or fake.
"I can say it because it is absolutely true. I am very proud I play for Chelsea and of what I have achieved as part of the team.
"I value my relationship with the supporters very highly and they have become part of my football family.
"I know when I am older and have finished my career I will sit among the fans and support Chelsea with them."
But Lampard admits he was concerned when talks over a new contract at the west London club stalled.
"I wondered what was going on and since then there have been a couple of meetings with Steve (Kutner, Lampard's agent)," he added.
"So far, though, Chelsea have actually yet to make a proper offer on a new deal.
"I am not worried about the situation but it's frustrating when everyone else is talking about my future."
Lampard also claims he has no intention of invoking a FIFA rule which would allow him to buy his way out of the remaining two years of his contract for around £8million.
"As far as the FIFA rule is concerned of course I am aware of it," he said. "I read about it every day in the papers!
"The fact is that it's not relevant. I have two years left on my contract and I want to stay and sign a new one."
Compare football odds from over 25 bookmakers and claim £500+ in Free Bets. Click here for offer!