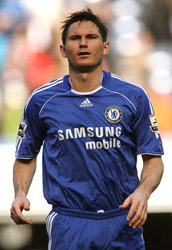 Can Roy Hodgson inspire West Brom to victory against Wolves on Sunday? See the best betting here…
Frank Lampard admits it would be a "disaster" if Chelsea failed to qualify for next season's Champions League.
A goalless draw against Fulham on Monday saw the champions remain in fifth place in the Premier League.
Speaking at the launch of the England Footballers' Foundation, Lampard told BBC Sport: "We must finish in the top four and can never take our eye off the ball, it would be a disaster if we didn't qualify."
Chelsea host Everton in an FA Cup 4th round replay on Saturday and play FC Copenhagen in the first knockout round of the Champions League three days later.
And Lampard admitted that the two competitions were now vital to his club.
He said: "There's huge importance because you can see the league's going to be difficult and that means it's more important to reach finals."
The club's record signing Fernando Torres has failed to score in the two matches he has played since his £50m move from Liverpool but Lampard also backed his team-mate to come good.
"He's made a huge difference," he said. "No, he hasn't scored in two games but all the spotlight is on him.
"There's a huge responsibility, people are looking to him to do it instantly, but he will make a difference to us.
"He's a top-class player, he has boosted the lads already and for sure will come good, he's going to add to us in a big way.
"David Luiz has come in as well and has been fantastic."
With £75m spent on the transfer window deadline day, Lampard said he was delighted by the January spending outlay.
"I was slightly surprised but it was very exciting and I was pleased," he said.
"It's a huge boost to have such quality players that we needed at the time.
"We haven't spent much in recent years compared to some by our standards, but last season we won the [League and FA Cup] double and this was a good time for us to go into the market.
"I'm just thankful we've got the funds to do this."
Lampard admitted Chelsea's inconsistent form this season has been down to "a few factors".
"We haven't performed as well, there's been injuries, and some unsettling moments, but if you don't perform you fall behind in the title race and that's the reason really."
Can Roy Hodgson inspire West Brom to victory against Wolves on Sunday? See the best betting here…
Take advantage of the sales by saving up to 36% on a subscription to World Soccer