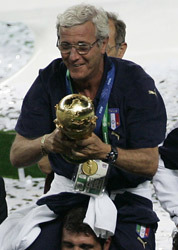 Italy coach Marcello Lippi described winning the World Cup as the greatest moment of his life after their penalty shoot-out victory over France.
"I have to say thanks to the players. This is the most satisfying moment of my life," Lippi said after watching his side lift the troophy.
"I dedicate the victory to my family. The players have unlimited heart, character and personality.
"Winning the World Cup is the greatest satisfaction that any coach or footballer can ever feel.
"How many coaches have won a world title at club level (The Intercontinental Cup) and also with a national team? I don't know. I've won the Champions League and lots of Serie A titles but I've never felt anything like this, it is a completely different feeling."
Lippi said that he was convinced that Italy would win the shootout.
"It takes a lot of determination and a lot of conviction in penalty shootouts – it's not by chance. Our boys really wanted it and that's why they were able to put away all five," he said.
The Italy coach admitted that his side had faded in the second half of normal time.
"In the second half we faded physically but there was always a chance that it could be won from a set-piece, or from one moment, there were great players out there capable of doing that. Then we took the penalties very well, there was great lucidity in the penalties, they aren't easy," he said.
Lippi attributed Italy's success to the relatively straightforward route his team after winning their group.
"The decisive moment for us, when we got the feeling we could go forward was when, with the results we got, we were able to finish top of the group and come up against teams in the second round and quarter-final who seemed less difficult than other teams.
"In that situation, your conviction grows naturally. Then we beat Germany, in front of 60,000 of their fans. I always said that if you get to the semi-finals then anything can happen," said Lippi.
The Italy coach refused to discuss his future plans, preferring to savour the moment of victory.
"Ask me another question, let's enjoy this great moment," he said.