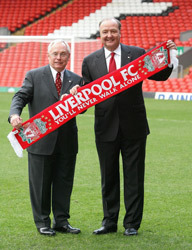 Liverpool co-owner George Gillett has played down suggestions of a rift with manager Rafa Bneitez, and insists the club are making plans to bring in new signings.
The American tycoon says now that they have essential down key players to extended contracts they will now turn their attention to signing new players.
"I sense a pressure building to make signings," Gillett told The Mirror. "The fans know that we have huge regard for Rafa.
"We are pleased with Rafa and his strategy.
"The first part of the plan was to sign a number of our existing star players on long-term contracts.
"That has been done. Now we're moving on to phase two, which is bringing players in."