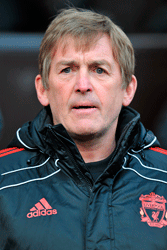 Liverpool are a best price 40/1 to be relegated after their 2-1 defeat to Blackpool last night
Liverpool manager Kenny Dalglish thinks his players lack belief following the defeat at Blackpool.
The Premier League debutants made it a double over Liverpool thanks to a 2-1 win at Bloomfield Road.
Although Fernando Torres had given the visitors an early lead, goals from Gary Taylor-Fletcher and DJ Campbell ensured Liverpool slumped to another disappointing result.
Dalglish praised the effort and commitment of his players, but said he wants more confidence from them.
"You can see that their effort and commitment, desire and pride is there from all of them," he said.
"Sometimes it doesn't matter how good a player you are, if you don't have the belief in yourself then it's not going to be helpful towards you.
"We've got to work hard and we'll give them a little bit of belief and confidence.
"They have been really encouraging, the way they've gone about their work.
"I think the players here are very good players but they just have to believe in what they're doing and believe in themselves more."
On the game itself, Dalglish remarked: "We passed it well up to a point, the final pass that we made wasn't as good as the boys are capable of.
"We'll work away and try to develop that – give them the confidence they need to produce more positive results.
"Certainly their first goal we were a good touch and a pass away from running the ball into the back of the net. And the second one was a corner that's come back in and we've not been concentrating.
"We should have been picking up better than we were. There's a lot of things that we'd like to work on."
Dalglish admits he has not yet spoken to the club's owners about possible new signings in the January transfer window.
"I'm sure they'll improve but whether there's going to be any players coming in or moving around I don't know," he added.
"I can always make a request, it might not always be accepted. I've never breached the subject with money being available with the owners.
"If there is the possibility of brining somebody in we'll cross that bridge when we come to it.
"At the moment I've not asked for anybody and I've not enquired for finances."
Liverpool are a best price 40/1 to be relegated after their 2-1 defeat to Blackpool last night
Take advantage of the January sales by saving up to 36% on a subscription to World Soccer