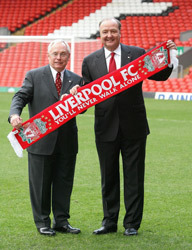 Liverpool's co-owner Tom Hicks has hit back at Uefa, describing the governing body's communications director William Gaillard as a clown for blaming the club's fans for the problems at the Champions League final.
Gaillard has pinned the blame for the trouble in Athens on the travelling Liverpool supporters.
Uefa insists there have been 25 incidents involving Liverpool fans away from home since 2003, listed in a report to be published today. The sports minister, Richard Caborn, will meet the Uefa president, Michel Platini, to discuss the report's findings.
Gaillard said: "The incidents involving Liverpool fans have been well known to us before the trouble at the Champions League final which involved Liverpool fans last week.
"That was just the latest example. What other set of fans steal tickets from their fellow supporters or out of the hands of children?"
Gaillard's comments have angered Hicks, and he responded by hitting out at Uefa's handling of the ticketing arrangments for the final.
"I thought the guy from Uefa was a clown for saying that," Hicks told Sky Sports News. "Uefa did not handle this right at all.
"To give 17,00 tickets to the two teams, particularly knowing Liverpool is going to bring 40,000 fans is insane.
"I think it is a classic case of a bureaucrat trying to take pressure off himself.
"They didn't handle it right, they didn't have proper ticketing procedures.
"Unfortunately there were counterfeit tickets and unfortunately there were Liverpool fans who paid hard-earned money and a lot of fans went to great sacrifice to get their tickets and they got to the stadium and were told there was no more room.
"Were they mad? Sure they were mad and I don't blame them."
Meanwhile, Liverpool skipper Steven Gerrard was quick to defend the club's supporters in the wake of Uefa's criticism.
"It upsets me because we've travelled everywhere together for the six or seven years I've been in the first team," said Gerrard.
"From what I've seen, their behaviour has been fantastic so it surprises me to hear that. I had friends and family at the final. Their opinion was that the organisation wasn't good enough.
I'm sure when it all gets broken down they will conclude that the organisation wasn't good enough and maybe a minority of Liverpool fans have let themselves down. But, as far as I'm concerned, the European Cup final has got to be in a bigger stadium with better organisation."