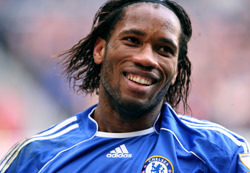 Help us with a Sport and Betting Survey! Click here to take part now.
Chelsea manager Jose Mourinho believes striker Didier Drogba will be a real threat to Liverpool in Tuesday's Champions League semi-final second leg.
Andrii Shevchenko will miss the game with a groin injury, although according to reports, the Ukrainian striker withdrew after being informed that he would be a substitute tonight.
Mourinho, whose side won the first leg 1-0, believes Drogba will compensate for the absence of his strike partner.
"He is in really good form," said Mourinho.
"Liverpool have good defenders and they do play a lot of offside but Didier is so powerful he can worry them again.
"He did it at Stamford Bridge last week and he did it at Anfield in the league last season. So we believe that he can be an important man for us again."
Drogba is a yellow card away from missing the Champions League final through suspension but Mourinho is confident his striker can avoid a ban.
"Players should not get cards for complaining to officials, I do not want them to do that," stated Mourinho.
"Maybe an aggressive foul but that is something that normally an attacking player does not need to do.
"An attacking player should be under control and play a semi-final without a yellow card. I think that is not difficult."
Mourinho said his team will be looking to extend their lead rather than sit back and hang on to it.
"We will attack, he added. "For 10 minutes you can defend with everything but for 90 you cannot defend perfectly.
"A good way to play is to scare your opponents, keep possession and score.
"But again we will not have all our players, this has been the season of injuries, something we have had to cope with but we are still in a very good situation.
"We have won a final, we have another one to play and we are in the Champions League semis."
Atmosphere not a problem
Mourinho responded to Liverpool boss Rafael Benitez's claims Chelsea will be intimidated by the Anfield crowd.
"I am not interested in what Benitez is suggesting about the atmosphere, so do not even tell me," he continued.
"We will cope with the atmosphere. I do not think someone like Claude Makelele will be having sleepless nights.
"A great atmosphere supporting the home team is always good for the home team. A hostile one for the away team can depend on the players' character.
"At this level, a hostile atmosphere can be a good motivation for people with a lot of experience.
"Everyone wants good atmospheres and Liverpool's fans always provide that. It is good.
"We have prepared ourselves for this atmosphere. Referees must also prepare themselves for matches, with players asking for this, for that, for this, for that.
"They have to be strong. They have to be strong enough to cope with it.
"The referee is Spanish, and a top referee. I prefer a top Spanish referee than a bad referee from another nationality.
"Mr Gonzalez is one of the best referees in Europe and I want to believe he comes here to do a professional job, a job without heart, a job as a professional.
"He is a top referee, nothing else, I believe that."
There have also been mind games over the suspected line-ups, with each manager sure the other is bluffing.
Help us with a Sport and Betting Survey! Click here to take part now.