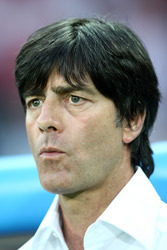 A clash of personalities could undermine Germany's World Cup campaign and lead to the departure of Joachim Low.
Strange how the concept of the German national team as a well-oiled, totally-united entity has become common currency. What with dressing room cliques at daggers drawn (Bayern Munich and Koln factions in the mid-1980s), players willfully defying authority (too many to mention) and a coach threatening to walk out during a World Cup (Helmut Schon in 1974), in-fighting has long formed part of the Nationalmannschaft scene and now we have another turf war, this time sparked by the breakdown of talks to renew the contract of Bundestrainer, Joachim Low.
After plotting his side's second-place at Euro 2008 and their unbeaten qualification for World Cup 2010, Low – whose current deal runs out this summer – had looked a racing certainty to sign on for another tour of duty and eager for continuity at the top, the German federation announced a week before Christmas that they had shaken hands with all the interested parties – Low, his assistant Hansi Flick, team manager Oliver Bierhoff, goalkeeper coach Andy Kopke and chief scout Urs Siegenthaler – on a two-year extension.
"From now on, we can concentrate in peace on our World Cup preparations," declared DFB chief Theo Zwanziger.
But Dr Zwanziger, it seems. had jumped the gun. As far as Low and sidekicks were concerned, a comprehensive agreement had yet to be reached and when more boardroom dancing failed to bear fruit, the DFB had no choice but to come clean, blaming the impasse on "structural problems and financial questions". Talks would be put on ice until after the World Cup, though many believe that, however well Germany perform in South Africa, Low days are numbered and that he will be replaced at the end of the World Cup by intensely-ambitious federation technical director Matthias Sammer.
According to leaks to the press from a federation deep-throat, negotiations floundered on two main points: Team Low's demands for a signing-on fee of a year's salary and Bierhoff's insistence that he be given the right to veto any future German coach. Increasingly of the opinion that Low and Bierhoff were striving to augment their power base, to build "a state within a state" at the DFB, Dr Zwanziger held firm.
Let the hostilities begin. Low and Bierhoff, incandescent with fury that details of supposedly secret discussions were now in the public domain, accused the DFB of misrepresenting their demands and encouraging the media to portray them as Machiavelian money-grabbers. Bierhoff insists he was only seeking a retrospective bonus for the entire national team staff and that the sums mentioned in the press had been wildly inflated, while Low was especially angered by an eleventh-hour "take it or leave it" contract proposal.
"I've worked with the DFB for six years, four as Bundestrainer, and was astonished to be offered a contract and to be told I had just two days to accept or not," complained an unusually tetchy Low.
"I shouldn't have been handed such an ultimatum. It has annoyed me a lot, as has the appearance in the press of confidential details of the negotiations. It's out of order and I've told the president so.
"Anyone familiar with me knows I'm not driven by money and power. Sporting issues are much more important to me. We would have preferred this matter to have turned out differently. But I can live with it and will continue to be thoroughly focused on my job."
A persuasive school of thought is that a deal to re-sign Low would have been concluded long ago if former Germany striker Bierhoff was not part of the management equation. Thanks to the latter's numerous clashes with Sammer – they fight like cat and dog for control over the Under-21s – the perception that he is more corporate than round ball and rather haughty personality, Bierhoff is Mr Unpopular both within and without the committee rooms and it's an open secret that many at the DFB would like him gone. Just one hitch, though. He is joined at the hip to Low. They come as a package.
Although Dr Zwanziger has attempted to play down the consequences of the spat ("It's not a question of life or death for the nation if the Bundestrainer has much or little time left on his contract."), he knows only too well that it may cost Germany dear at the World Cup. While not quite a dead man walking, Low's authority has taken a severe knock and fissures in leadership run the risk of setting a fragmented tone for the entire Nationalmannschaft party in South Africa. A house divided… You know the rest.
Dr Zwanziger, Low, Bierhoff, the squad. Everyone could end up a loser in this sorry business. Everyone, that is, except a certain Matthias Sammer.