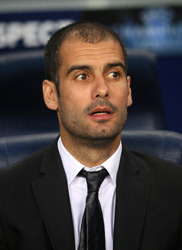 Real Madrid v Barcelona: See the best odds on EVERY market of Wednesday's Champions League semi-final 1st leg here…
Barcelona coach Josep Guardiola believes Real Madrid are favourites as the two great rivals prepare for their eagerly-awited Champions League semi-final.
Midway through their four-match run of games, Real Madrid drew 1-1 with Barca in La Liga before an extra-time winner from Cristiano Ronaldo handed them victory in the Copa Del Rey last week.
With the first leg of their Champions League semi-final approaching on Wednesday, Guardiola claims that Barcelona are underdogs.
"We accept that Madrid are in the role of favourites in the Champons League. I understand that is so, because they won the Copa and they are [playing] well," he told Marca.
"We are not in the best of conditions to play in the Bernabeu but we are fine emotionally. In the Bernabeu we will have to play very seriously and win the game.
"We also accept the challenge. We have great faith in ourselves and I have faith more than anything in my players."
There is a chance that a Portuguese referee will be chosen to officiate the first leg – something Guardiola insisted would please his opposite number, Jose Mourinho.
"I am convinced that Mourinho will be very happy if there is a Portuguese referee. To play the semi-final we will need the right mentality and tactics.
"The last two semi-finals we have played have been very hard fought. We have seen Madrid's strength with Higuain, Benzema and Kaka."
Real Madrid v Barcelona: See the best odds on EVERY market of Wednesday's Champions League semi-final 1st leg here…