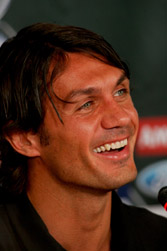 When Paolo Maldini leads out Milan in the Champions League Final, fans and commentators alike may feel it could be the last time they see the great man on the world stage. At 36, going on 37, where better to retire than at the top, captaining your side in the biggest European club match?
Not so fast. Maldini currently has a contract with Milan through to 2007, and up at the Milanello training complex, they fully expect their charismatic skipper to lead out the team next season. As of now, thoughts of retirement are for the end of next season or, indeed, the season after that.
Given the form he has shown this term, it is understandable that both Maldini and Milan find it hard to consider his retirement. Twenty years after his Serie A debut, Maldini is still strutting his stuff to telling effect. He still looks like the real thing.
In an interview earlier this year with sports daily Gazzetta Dello Sport, Maldini willingly admitted that his thoughts did occasionally turn to the concept of life after football. "I've been thinking about it for two or three years without being able to make up my mind as to what I will do," he said. "The ideal thing would be to create another role for yourself in football, but I've always said that I don't want to be a coach; you suffer too much."
For the time being, however, his appetite and enthusiasm for the game remain strong and healthy. "I still like the atmosphere in the dressing-room; it's a place that becomes your home, you're in there with a lot of young people, there's lots of fun, jokes, chat, and we all work together without envy. Retirement won't depend on my level of motivation, which is still intact, but on my body. The older you get, the more your body cracks and creaks, the harder training gets."
Nor has the sheer longevity of his career dulled his appetite for top-level success. In particular, as he recalls in his book, I, Paolo Maldini (published this year), the Champions Cup/League has a particular fascination for him. "If I was to tell the story of my career," he writes, "I would start with one or two important places – the San Siro, home to me and still the stadium that most stirs me up. Then, too, I would have to add Old Trafford, the place where I won my most recent Champions League medal [in 2003]. To tell the truth, I can hardly recall the first Champions League Final we won [1989, v Steaua Bucharest] even if for a lot of Milan fans that match remains mythical…When you're lucky enough to win a lot, it ends up that you don't even remember what you've won or how you won it.
"I know people will think it strange that the match I remember best is a Final we won in a penalty shoot-out, whereas that first win was utterly one-sided and a match that probably changed the club's history. Yet I'll never forget the joy I felt when, for the first time as captain, I held aloft the Cup at Old Trafford. Everything was brilliantly organised that night, very theatrical, with our lap of the pitch and the ceremony. At Old Trafford, I really had the feeling of being on stage at the end of a flawless rendition."
That "flawless rendition" was one of the high points of a career that began on a bitterly cold, snowy Friuli afternoon in January 1985. An injury crisis had prompted Milan's Swedish coach Nils Liedholm to draft in the 16-year-old Maldini for a game at Udinese. As he sat quietly on the dressing-room bench at half-time, Liedholm came over to him to say: "Get yourself ready, boy. By the way, which side do you prefer to play on?"
"On the right, please, mister," came the answer from the teenager.
Changing sides
There is one of the curious things about Maldini. Not many would guess that the player who for the past decade and more has been widely considered one of the outstanding left-backs in world football is actually a natural right-footer who began his career in the right-back berth.
The sheer volume of Maldini statistics is overwhelming. He has won four European Cups and seven Italian League titles. He is the most capped player in Italian football history with 126, 74 of those as captain. He played in four World Cup finals and three European Championship finals before retiring from international football after Korea/Japan 2002. He is currently second on the all-time list for Serie A appearances (only Dino Zoff is ahead of him). And he has played out his entire career with just one club.
However, for those of us who have watched Maldini over the past 20 years, he represents more than just sporting excellence. In the ever-more tabloid, pressurised world of top-level football, he has been a rare voice of sanity, moderation, sportsmanship and good manners.
He has never been one to milk the hype. Put simply, he was born to play football, being the son of Cesare Maldini, captain of Milan's 1963 European Cup-winning side, an Italian international and, of course, Italy's coach at France 98.
Maldini junior has always tried to steer clear of FootBiz glamour, preferring the company of his extended family (his father Cesare, his Venezuelan wife Adriana and their two small boys, Daniel and Christian) to that of cinema stars and TV personalities. And when he talks publicly (rare enough, these days), it is usually to say something intelligent. For example, reflecting earlier this year on his Milan debut, he said: "In those days, it was easier for young players. I started at 16 because, with a couple of players injured, there was a chance. Today, all the big clubs have 25 or more players in their squad and that makes it very, very hard for a youngster to get a break."
Ask him who was the best player he ever played against and the answer is revealing: "Diego Maradona. He was not only the greatest but also the most honest. He was a model of good behaviour on the pitch – he was respectful of everyone, from the great players down to the ordinary team member. He was always getting kicked around and he never complained – not like some of today's strikers, mamma mia!"
Even though Maldini played in seven major international tournaments without winning one, he has no complaints about his long Italy career. "I'm satisfied. I know we didn't win anything but for 14 years I was playing on the big stage," he says. "I played in some fantastic games."
When he does finally retire at club level, he will take with him some happy memories of the Champions League. In particular, his mind goes back to that 2003 Final, against Juventus in Manchester. "Forty years after my father had held aloft the Champions Cup at Wembley, there I was winning it. I'll never forget it."
Perhaps there is another even better night awaiting him in Istanbul this month.
By Paddy Agnew