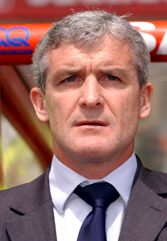 With half of the Premier League campaign gone where have punters been squeezing the value from the bookies?
Mark Hughes has confirmed Manchester City have made several offers for players, but refused to identify any of the players targeted.
Among those linked with a move to Eastlands is Manchester United forward Carlos Tevez, but Hughes scotched rumours he is readying a bid for the 24-year-old.
"We have been linked with nearly everybody, I think, and Carlos Tevez is one that hasn't been, so now that he has we will have the full set," Hughes told the Manchester Evening News.
"I don't talk about players at other clubs; there are those who are quite prepared to do that for us.
"We are trying to get players in that will help us, we are looking at targets that are attainable and realistic and that has always been our stance."
Hughes has already signed Wayne Bridge from Chelsea since the January transfer window opened and is keen to bring in another five new players.
"We have put bids on the table and some have been rejected at the level we have pitched them.
"I am sure that this week we will be making more offers. What we are trying to do is make sure that when we do make those offers they are at a level that clubs will actually discuss. They are players that we want to attract, so there is no point going in at a level that you know is going to be dismissed out of hand.
"It is about getting the balance and the pitch of the offer right and if you do that then more often than not a deal can be concluded more quickly. Long drawn-out deals tend to test everyone's patience, so it is better to look at the market, look at what you think the club that has the player would want and go in at that level. If valuations are way out of kilter then it becomes more drawn out.
"I have highlighted players that I think will help and then that is taken over by Garry Cook and Paul Aldridge and they conclude the deals. Managers always want a turnover of players because new faces give everyone a lift.
"It takes time to speak to clubs, to get permission to speak to players and their agents; so it is a long, drawn-out process and much that we might want to get things done rapidly it is not always the case."
With half of the Premier League campaign gone where have punters been squeezing the value from the bookies?