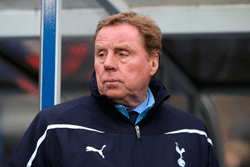 Save up to 33% on a subscription to World Soccer
Tottenham manager Harry Redknapp expects Manchester City to persist with their lavish spending spree until they have claimed both the Premier League and Champions League.
Redknapp's side travel to Eastlands tonight to face a City side poised to claim the fourth Champions League spot, and the Tottenham boss believes that qualification for Europe's elite competition will signal a fresh wave of signings this summer.
Redknapp attributes City's success to the £300million outlay to fund the signings of players like Carlos Tevez, David Silva and Yaya Toure since Sheikh Mansour's takeover in September 2008.
Several big names have been linked with a move to Eastlands, and Redknapp claims that up to two stellar names have already been signed up to further boost Mancini's options.
"The man from Abu Dhabi has got so much money, I mean, it isn't like money to him is it?" Redknapp said.
"That's the key. I know people in the right positions there (at City) who have said 'Well, the one thing we couldn't offer was Champions League football.'
"But they tell me they've got one or two players signed already who'll blow your brains out. I mean, that's where they're going.
"They aren't going to stop until they win the championship and even then the Champions League, are they?"
Redknapp's own team surpassed all expectations to reach the quarter-finals of the Champions League this year and the 64-year-old thinks City will be good enough to go all the way in Europe next season and win the Premier League too.
"I think they will win the Premier League in the next few years," Redknapp added.
"I think they can be a real force next year. They've got a strong squad which is only going to get better now, because they've got unlimited funds to buy anybody they want, and they can pay the wages.
"They've got players there now earning £200,000 a week. I mean, it's crazy, isn't it? It's another world really, isn't it?"
Redknapp admits there is little he, or any other managers in the league, can do to stop City dominating the transfer market.
"I have a long-term plan. I'm going to work hard with the under-nines, he joked.
"What can you do though?" he added. "I don't know. We'll have another go next year. We've got good players here. It's hard but we are close this year."