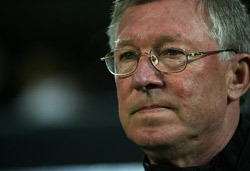 Man United are now a best price 8/11 to win the Premiership after their 3-1 defeat to Liverpool yesterday…
Sir Alex Ferguson refused to speak to the media on Sunday following Manchester United's 3-1 defeat to Liverpool.
The United manager refused to talk to host broadcaster Sky Sports, radio rights holders TalkSport and the club's television channel MUTV.
Ferguson cancelled his pre-game briefing on Friday in protest at the coverage given to his post-match quotes at Chelsea on Tuesday for which the Football Association charged him with improper conduct. Meanwhile, Mike Phelan, did not carry out his usual post-match interview with the BBC, arranged due to Ferguson's long-standing feud with the organisation.
His action was also prompted by the media reaction to Wayne Rooney's elbowing of Wigan's James McCarthy last weekend.
It is not yet known whether the media blackout will continue this week, ahead of United's FA Cup quarter-final with Arsenal, although discussions are bound to take place behind the scenes.
The only comments came via a club spokesman, who confirmed Nani will be assessed on Monday before the extent of his injury is known, and Rio Ferdinand, who was not even at Anfield, but commented via Twitter.
"Bad result today no excuses," the England skipper stated on the social networking site.
Man United are now a best price 8/11 to win the Premiership after their 3-1 defeat to Liverpool yesterday…
Take advantage of the sales by saving up to 36% on a subscription to World Soccer