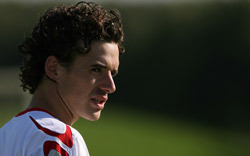 Help us with a Sport and Betting Survey and win a £50 Free Bet! Click here to take part now.
Bayern Munich have finally agreed to sell England midfielder Owen Hargreaves to Manchester United.
The 26-year-old will sign a four-year contract after the two clubs concluded 12 months of acrimonious negotiations by agreeing a fee the Bayern president Franz Beckenbauer described as "a little bit over" €25m.
Beckenbauer told German TV: "Owen is leaving. That was the player's wish. It's a good match and it's also a good deal financially."
"Everything is right for him and it is also financially right for us." Asked if reports about the size of the fee were true, Beckenbauer replied: "It will be around that size."
Hargreaves, who impressed for England at the World Cup last year, admitted he wanted to join United last summer.
United quickly moved to open negotiations with Bayern and made offers in the summer transfer window and in January but the German club refused to sell.
His career in Germany ended in disappointment when Bayern finished fourth in the Bundesliga, missing out on Champions League qualification.
Hargreaves' transfer is likely to be the first stage of an overhaul at the club, with chairman Karl-Heinz Rummenigge promising to carry out "brutal and ruthless" changes to the team.
Rummenigge said he was disappointed to be losing the midfielder who has been at Bayern for ten years.
He told the club's website: "A player like Owen Hargreaves would have looked good in our team next year.
"In the defensive midfield position Owen is one of the best in the world – it's a big sporting loss for us."
United will not comment until the deal is officially concluded but the players have been informed and feloow midfielder Michael Carrick welcomed new addition.
"We are the biggest club in the world, we want the best players and Owen is a top player," he said.
"He will strengthen the team. We need a big squad and that's been proved this season when we have been fighting on all fronts."
Help us with a Sport and Betting Survey and win a £50 Free Bet! Click here to take part now.