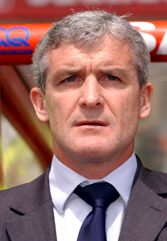 Man Utd head to Japan this week for the World Club Championships. Click here for all the latest BestPrice betting.
Manchester City executive chairman Garry Cook has revealed that the club are fully behind manager Mark Hughes.
Cook insisted that he and the club's owners – Abu Dhabi United Group – are backing Hughes to bring success to the club.
Depite the takeover of the club which enabled City to break the British transfer record by signing Robinho from Real Madrid, City currently sit just above the relegation zone.
"Mark is a very, very talented manager and we are pleased to have him at this football club," Cook told Sky Sports News.
"He has a lot of experience in the game and he knows exactly what needs to be done, and he knows what success looks that and we look forward to that success.
"He keeps very calm, very collected and a lesson to all of us and I think one thing we talk about is that you can't get into a panic and make decisions that will affect you long term."
Cook admits the club are looking to strengthen their squad when the transfer window opens in January, but he insists they will not be paying inflated prices.
"We have a great squad of players. The speculation is far greater than our plans, he has indemnified where we can add to the squad, and we have a clear process," he said.
"The speculation is the bit that challenges us, because we have been attached to over 50 players – most of which is speculation and we have to be very mindful of how the owners want to run the football club and my responsibility is to them and to the fans as well, the last thing we are going to do is overspend and waste valuable resources.
"We have a every clear plan and we quite prepared not to bring any players in if we feel the situation is not right, we are quite willing to walk away if we feel the club is being taken advantage of," he said.
"The speculation about what we are supposedly willing to pay a club or player is not helping the situation, but we know what it takes to bring the right characters to the club and we will continue to do that.
"It is about getting the right characters to the club, about building for the future it is about adding depth to the squad."
He also insists the club's new owners are looking to invest in the club as a whole and not just focus on transfers.
"We have gone through a tremendous amount of change and they have been incredibly valuable, not just by looking at the pitch but they are building throughout the club and room for improvement across investment, in people and infrastructure," he added.
"We know what the future plan looks like, we know what we have to do and things have not gone for us in certain areas, but we are maintaining our positive attitude and it is everyone else that gets us to try and change it, this is a big football club, with tremendous support and the future looks fantastic and everyone at the club feels the same way."
Man Utd head to Japan this week for the World Club Championships. Click here for all the latest BestPrice betting.
Give a subscription to World Soccer for Christmas this year and you'll save up to 31%