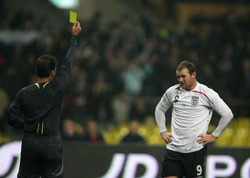 Are you a football fan? Answer a few footy questions and be in the running for a £50 Free Bet. Click here!
England manager Steve McClaren blamed the referee Luis Medina Cantalejo for England's 2-1 defeat against Russia, branding the offical a "disgrace" for awarding the penalty that swung the game Russia's way.
"It is an absolute disgrace," said McClaren, who will almost certainly be sacked should Guus Hiddink's side overcome Israel next month and end England's slim chances of reaching the Euro 2008 finals.
The England manager slammed Cantalejo for failing to spot that Wayne Rooney's push on Konstantin Zyryanov occurred outside the area.
"We were comfortable, they were running out of ideas and if that penalty had not been awarded I am confident we would have won the game. We were in total control," added McClaren.
"I don't fault the players; I don't fault their attitude, I don't fault their endeavour but, because of one decision, we went from being in a winning position to losing."
Asked if he had done anything wrong, McClaren said: "I can't reflect on the detail right now. I have not seen the flow of the game. That decision has cost us. We went from that to losing the game. I can't fault players' attitude or their endeavour.
"We were in control, defending magnificently. No one likes losing games and I don't like losing games. Five minutes of madness have cost us. The players are devastated. We have to stick together. We were away from home, Russia had a lot of possession, they hardly had a shot at goal."
The defeat means that England will not reach next year's finals in Austria and Switzerland if Russia take maximum points from their remaining two matches against Andorra and Israel.
Despite Wednesday's defeat, McClaren refused to accept that England were out of contention.
"We're not giving up. We will take it to the end.
"Israel is a tough place to go. They have to go and win. They have still got a lot of work to do."
Hiddink proud
Meanwhile, a jubilant Russia coach, Guus Hiddink, highlighted McClaren's tactical failings.
"You could see in the first half that we had two strikers and they were playing with Lescott rather inside as a central defender with Rio Ferdinand and Sol Campbell," said Hiddink.
"So in the first half we had a lot of space on the right side and so we could penetrate there; although our attacking was not fine-tuned we still had that threat. That was why I changed it at half-time; they were vulnerable that side. And I like making [the left winger] Joe Cole a left full-back: you get rid of one of their attackers. That is why we could damage them."
"We dominated without being deadly and lethal around the box. It was a blow to go in 1-0 at half-time but we made a change and I said to them: 'The moment you get the equaliser, and continue pressing their defence and giving them no space you will get your second goal because they will not be able cope with that pressure.' It was nice to see this creativity but I am glad to see more efficiency."
"I had a feeling that if we could manage to keep pressure on their defence we could get the equaliser and could turn it around – because they might start to panic," said the Dutchman.
"I am very proud of these guys."
Are you a football fan? Answer a few footy questions and be in the running for a £50 Free Bet. Click here!