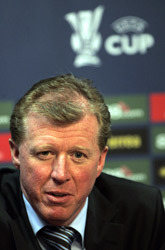 Steve McClaren's appointment as the next England manager is expected to be confirmed by the English Football Association.
The FA's board is due to meet at at 1030 BST to discuss the successor to Sven-Goran Eriksson.
Following the withdrawal of Luiz Felipe Scolari, the Middlesbrough manager is set to be recommended to the board by the FA selection panel.
McClaren, 45, did not appear for the post-match interviews after his Middlesbrough side's 1-1 draw at Bolton last night.
Bolton manager Sam Allardyce – who was also a contender for the job – has said he expects to miss out.
Allardyce did appear and he said: "I'm going to be disappointed."
When he was asked who he thought would succeed Sven-Goran Eriksson, he answered: "Steve McClaren."
"I've had nothing (from the FA) but you get the sense and the feeling.
"The media have been going that way day-by-day and in the end you think that that is going to be the case.
"It isn't official yet but I'd expect that will probably be the selection on Thursday."
McClarenhas has worked as one of Eriksson's assistants during the Swede's period in charge of England.
"He's extremely good. As a coach, perfect every time," said Eriksson.
"Every time we are together, after dinner, all the coaches sit and discuss football for one or two hours – what we are going to do tomorrow, the next squad or the next team.
"Everyone has their opinion. Because when I took this job I said I didn't want to have people around me who just say 'yes'.
"I want people to have opinions… and he's clever."
Subscribe to World Soccer – The essential football magazine.