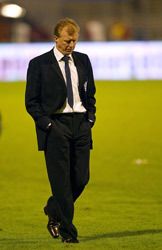 Betting on Football? Click here and generate more money on every correct bet.
Steve McClaren has taken responsibility for England's performance following their 2-0 defeat to Croatia.
"We lost the game so obviously the tactics didn't work," said England coach McClaren as he looked back on his decision to adopt an unfamiliar 3-5-2 formation.
"We'll look at it more thoroughly and I always believe we do need to change systems and we do need another one.
"It was my decision to change and we lost the game so it's my responsibility," added McClaren.
The England coach admitted he was expecting a grilling from the media after the embarrassing Euro 2008 Group E qualifying defeat.
"I knew that was part of the job when I took over," McClaren told BBC Radio Five Live. "I've seen it for the last five years.
"I have to accept that criticism, because it is my responsibility. I pick the players and I pick the system.
"If we win I accept the plaudits, but if we lose I accept the criticism. I'm not going to shy away from it."
"But it just makes me and the players more determined to turn it around."
England have picked up just one point in their last two Group E games, but McClaren remained optimistic about his side's chances of reaching the Euro 2008 finals.
"There are enough points to play for so we'll be okay.
"It's going to be difficult. Everyone has opinions, but I've said to the players we've got to stick together.
"Their attitude has been magnificent and we'll turn it around."
England captain John Terry admitted that England have put themselves in a tough position following the defeat.
"We said coming into this game after the draw on Saturday, it was imperative that we went and got the win," Terry told Sky Sports News. "We haven't done that and we have put ourselves in a difficult situation.
"But it is all about bouncing back and we can't wait to meet up and go again, but we need to start winning and pressing on.
"The lads are devastated, we really can't believe it," added Terry. "It is tough coming here and being beaten like that.
Croatia coach Slaven Bilic believed England's tactics helped his team.
"I hoped they'd play 3-5-2 as it would give us more room to attack on the wings," said Bilic.
"I knew if we could switch the play quickly we'd be two-on-one.
"I expected England to come out and pressurise us but it was more a question of whether we'd get a third."
Betting on Football? Click here and generate more money on every correct bet.