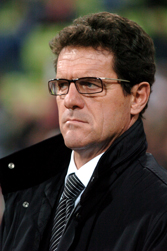 Real Madrid president Ramon Calderon says Predrag Mijatovic will decide whether Fabio Capello stays as the club's coach.
Capello's future at Real remains in doubt, despite leading the club to a first title in four years.
The Italian wants to stay at the Bernabeu, but president Calderon says sporting director Mijatovic will ultimately to determine Capello's fate.
"Capello is the one who is now the coach, but I can't say anything until next week when the people who have to decide that will give us a report," Calderon told Sky Sports News.
"Mijatovic, the general manager, he will be the one to say what's going to come."
Meanwhile, Getafe president Angel Torres is ready to demand sanctions against Real, if the club have agreed a deal for Bernd Schuster to replace Capello.
"If there is an agreement and we can prove it, I will report Real to Uefa and to Fifa," Torres told Radio Marca. "You can't just push Getafe around.
"I have heard that an agreement was signed a few days before Easter in Denia. If I get evidence I will take action.
"If anyone shows us a lack of respect they will have me as an enemy forever.
"Schuster tells me he has nothing agreed with Real, but some board members over there think he is already in the bag.
"Calderon could have called to tell me it is only a press story, or alternatively that he is secured and that I should look for a new coach."